ROTY - Remixer Of The Year 2021
The Oscars of the remix community, the 2021 Remixer of the Year (ROTY) Awards will be revealed on SLAY Radio on Saturday, February 19, 2022 at 8pm (CET). Will your favorites be among the winners? Tune in to find out!
Who made the best remixes in 2021? Who was most active and supportive?
For special achievements around the remixing scene during the years.
Who made the greatest debut in 2021?
Who do you think deserves this award in 2021 for providing great remixes over a period of 5 years or longer?
What was the c64 remix that impressed you most in 2021?
What Amiga remix did you like best in 2021?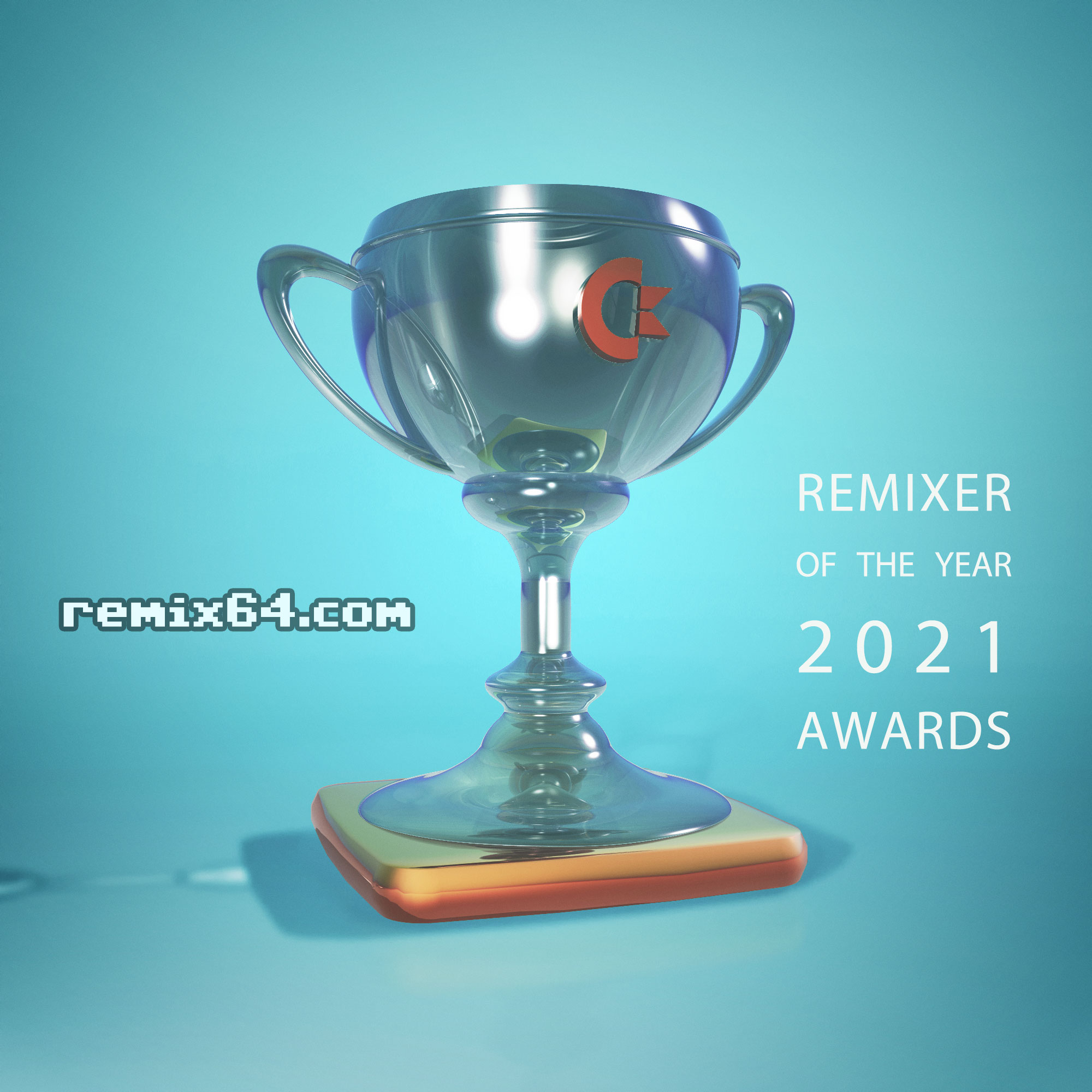 ROTY - Remixer Of The Year 2021

Disclaimer: The results are based on votes made by the Remix64.com community. Errors and omissions excepted.

» Report an error
---
Stello Doussis with his Spy vs Spy remix is already my favorite. Makes my spine tingle... a good sign...
---
Looking forward to the show. Should be a good time .
---
If anyone is interested in the show: According to the slayradio schedule it takes place on

19.02.2022 - 20:00 USRT
---
Finally Dr Future wins it!
---
Congratulations to all of you. Keep making awesome remixes.
---
At last, Dr Future is on the 1st Top remixer !! He was one of my favorite, and I'm really happy for him ;)
But This year there was amazing good remixes :) Thx for all remixers with their great jobs !!
---
Congrats to all winners and a special shout out to Johan Andersson and NecroPolo for their Lifetime Achievement Awards! And many-many thanks to all the awesome people who voted this year - you're the best!
---
Wow, I'm really greatful. Thanks to all you guys who voted for me. Will give my best to release some decent tracks for you in 2022 :-)
---
Wow. Congrats to all winners of each category and everyone who made 2021 a year full of nice tracks. The level of quality is so stunning. Keep up the amazing work and make 2022 like 2021 - great fun to listen to.

Thanks guys! 🙏
---
Congratulations to Sami, Glyn and Dr. Future. So much quality from everybody else as well. Love it.
---
Congrats to Dr Future - bit of surprise after such a strong year for GRB, but certainly deserved. Congrats to all winners, of course and thanks to Slaygon, Boz & Ziona for a great show.
---
That's been an honour. I'll try to live up to it. Congrats to everyone! As long as the scene is flourishing everyone adding a contribution is a winner.
---
Johan Andersson
28/02/2022 07:50
Yeah, honoured here as well! Thanks for the fine award and I'll try to continue with my releases. Congrats to all winners, especially to Dr Future for having an incredible year 2021.
---
Congrats to all!! Thanks for keeping it up 🎉🏆
---
Glyn R Brown
28/02/2022 11:21
A BIG! thank you to each and every person who took the time to vote for me, I really appreciate it. I'm pretty overwhelmed to be honest :) Also a HUGE thanks back to you all for taking the time to listen to our music & keeping the scene alive! Your all STARS!! :)
---
XxDUSTYxX
10/03/2022 10:24
Such a great show - as always!
Congrats to the winners of all categories and a huge THANK YOU to each person who took the time to vote for my track!
Thanks to all remixers (so many fantastic hi-quality remixes in 2021 again!), Ziona, Slaygon and Boz!
Keep it up! You rock! 🖤🤘👍
---