JLD - Frost Point (Smack My Mix Up)
Listen
Privacy notice: By playing this media file, external contents will be loaded from YouTube™, by which personalised data may be transferred there, and external cookies might be set. Learn more at YouTube™'s privacy notice.
Track info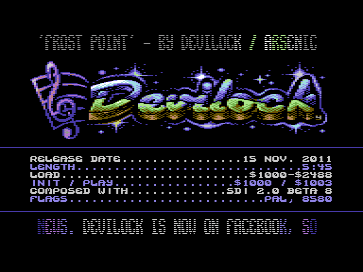 Arranged by:
Member profile:
Original SID:
Original composed by:
Duration:
3:42
Released:
02/06/2021
All-Time charts position:
454
Score:
90%
Story
I absolutely love this tune by Devilock. As usual when I search for something new to remix, I look for tunes that has been untouched.
So when I came across this gem I couldn't stop listening to it. I Just love it!
I had this idea to speed up the drums a bit and add some Prodigy feeling to it. Maybe not that close but what a heck!
Before I released it to RKO I was about to tweek the remix some, but I left it untouched. I thought it's better to focus on new remixes.
An honorable shared 6th placed in the recent 20th anniversary compo tells me that some folks may like it. So thanks to everyone that voted! Love ya!
Cheers!
Shouts
This is one well-produced track! Love the SIDdish lead, too. It's just a great track all around.
Super crisp sound, well produced, mixed and mastered.
I just love this one. And that lead!!<3
Just listened to this again. Such a crisp sound and so much love in it. I dig the prodigy vibes a lot :-)
Reviews
No reviews available.
Make your vote and be the first to submit a review!