Tomsk - Stationary Ark
Track info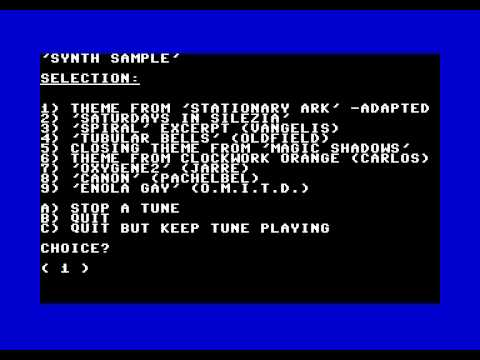 Arranged by:
Member profile:
Original SID:
Original composed by:
Also check out:
Duration:
5:01
Released:
12/05/2021
All-Time charts position:
44
Score:
95%
Story
So the winner of the most uninspiring picture to accompany the write up goes to.....LOL
Anyway - this demo was a favorite of mine, and all of the tunes got listened to regulary. But it was Stationary Ark that stood out. For those who don't know the story, George Feil based it on a recollection of a TV tune he'd been played by a friend. As a consequence, his version differs from the original, but still sounds as sweet as the day I first heard it.
So my second serious remix, a brand new DAW to mess around with (bye bye FL Studio, Hello Reaper). Time to try my hand at something more melodic and orchestral
Entered into the recent remix 64 anniversary compo.
Once again mixed and mastered by the gullible legendary Peter Clarke, who helped make it shine so much brighter! Cheers mate!
Shouts
Beautiful arrangement, nice variations to the original. Good work, Tomsk.
Take some lovely inspiration from Blur's The Universal during an initial gorgeous crescendo, and you've got a remix full of feeling with gorgeous piano too. Absolutely stellar work.
Such a nice interpretation
Shivers when those strings kick in, a beautiful and haunting remix
Lovely track!
Like Oldfield's Music of the Spheres...
One of my favorites from the Remix64 20th anniversary compo!
Very impressive track!! .. Great work. Looking forward to hearing more from this Guy :)
Love the emotion in this track. Great work.
06/05/2021
Technique
Artistic skill
Nostalgia factor
Overall rating
This remix reminds me of a finely woven tapestry where each strand, each color, each motif was made with the utmost care to ensure that when you step back and look at the entire piece, it remains a beautiful piece of art. All the nuances, all the articulations must've taken Tomsk a long time to get just right in this mostly orchestral remix, from the guitar to the strings, from the piano to the flute. I think the choice of the waltz-like, but 4/4 based rhythm was a fine one, too. I really like what I am hearing here!