Johan Andersson (Jojje70)
Member Profile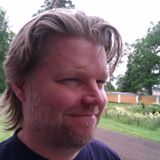 Handle:
Jojje70
Real name:
Johan Andersson
Homepage:
Contact:
Location:
Sweden
Born:
1970
Joined Remix64:
June 2013
Remix projects:
Voting profile:
About me
Hi, I'm Johan! I enjoy making SID remixes for a variety of reasons, like the nostalgia, the nice melodies and the creative process of turning a (hopefully) good idea into a finished mix.
What I aim for is making unique and original remixes, preferably with a new style or twist that haven't been done before. I always try to evolve and surprise as a musician and would hate to ever be predictable with my productions. My favourite instrument is the guitar and I mainly use a Gretsch Electromatic and a Washburn Cumberland acoustic in my work. I also own a few pedals and preamps, like the Line-6 POD, Boss VO-1 Vocoder and the Cry Baby wah-wah pedal. For other instrumentation I also use some soft-synths and drum beats from online drummers.
My musical background includes being part of a techno duo during the early 90's (using ProTracker on the Amiga), and later joining a rock band as a guitarist and song writer.
I hope you enjoy my remixes and thanks for listening and commenting! 😊
Achievements
ROTY 2021
ROTY 2020
3 Best Veteran (c64 or Amiga)
2 Remixer Of The Year (c64 or Amiga)
ROTY 2019
2 Remixer Of The Year (c64 or Amiga)
ROTY 2018
2 Best Veteran (c64 or Amiga)
2 Remixer Of The Year (c64 or Amiga)
ROTY 2017
2 Best Veteran (c64 or Amiga)
2 Remixer Of The Year (c64 or Amiga)
ROTY 2016
3 Best c64 Remix
3 Best Veteran (c64 or Amiga)
3 Remixer Of The Year (c64 or Amiga)
Releases
keyboard_arrow_downReleased
Title
Remixed by
Duration
Platform
Composed by
Score
27/10/2022

I

On Top of Myth
Johan Andersson
4:00
Remix.Kwed.Org

Chris Hülsbeck
94%
26/09/2022

I

Comic Bakery
Johan Andersson
3:53
Remix.Kwed.Org

Martin Galway
80%
18/08/2022

I

Rambo High Score (RKO100 extended rework)
Johan Andersson
3:31
Remix.Kwed.Org

Martin Galway
88%
22/07/2022

I

R

Terra Cresta
Johan Andersson
3:20
Remix.Kwed.Org

Martin Galway
83%
25/05/2022

I

R

Cybernoid (surf mix)
Johan Andersson
4:28
Remix.Kwed.Org

Jeroen Tel
89%
20/04/2022
Fist II - The Legend Continues
Johan Andersson
2:54
Remix.Kwed.Org

Neil Brennan
87%
08/04/2022

R

The Great Giana Sisters
Johan Andersson
3:29
Remix.Kwed.Org

Chris Hülsbeck
85%
25/03/2022
Fawn of Creation (slow rock mix)
Johan Andersson
3:53
Remix.Kwed.Org

Ole-Marius Pettersen
89%
15/03/2022
Golden Axe (western mix)
Johan Andersson
3:02
Remix.Kwed.Org

Jeroen Tel
80%
13/11/2021

R

The Last Ninja - The Wilderness
Johan Andersson
3:09
Remix.Kwed.Org

Anthony Lees, Ben Daglish
94%
09/11/2021
The Last Ninja - The Wastelands
Johan Andersson
3:54
Remix.Kwed.Org

Anthony Lees, Ben Daglish
83%
21/10/2021
Commando vs Panther (French-Latin mashup)
Johan Andersson
2:14
Remix.Kwed.Org

Rob Hubbard
78%
06/09/2021
West Bank
Johan Andersson
2:15
Remix.Kwed.Org

Fred Gray
82%
02/09/2021
Law of the West
Johan Andersson
2:34
Remix.Kwed.Org

Ed Bogas
86%
20/08/2021
The Human Race (glam rock mix)
Johan Andersson
3:39
Remix.Kwed.Org

Rob Hubbard
81%
23/07/2021

I

Dragons Lair II (Chilled River Mix)
Johan Andersson
2:45
Remix.Kwed.Org

Rob Hubbard
83%
17/06/2021

R

The Last V8
Johan Andersson
3:38
Remix.Kwed.Org

Rob Hubbard
88%
26/05/2021
Crazy Comets (rock mix)
Johan Andersson
3:27
Remix.Kwed.Org

Rob Hubbard
83%
12/05/2021
Wizball vs Crocodile Dundee
Johan Andersson
4:34
Remix.Kwed.Org

Martin Galway
90%
19/04/2021
Rambo (ingame chillout mix)
Johan Andersson
2:59
Remix.Kwed.Org

Martin Galway
81%
25/01/2021
Comic Bakery (chillout mix)
Johan Andersson
2:46
Remix.Kwed.Org

Martin Galway
84%
23/12/2020

I

R

Monty on the Run (high score revisited)
Johan Andersson
2:31
Remix.Kwed.Org

Rob Hubbard
83%
01/12/2020
Microprose Soccer (swamp cabin mix)
Johan Andersson
2:55
Remix.Kwed.Org

Martin Galway
79%
16/09/2020
Last Ninja 2 Central Park Loader (sim live mix)
Johan Andersson
3:19
Remix.Kwed.Org

Matt Gray
83%
14/09/2020

I

Rambo First Blood Part II (2020 in-game mix)
Johan Andersson
3:11
Remix.Kwed.Org

Martin Galway
69%