Remix64.com Awards 2008
Congratulations to Reyn and everyone who made it to this year's lists . YOU ROCK!😃
arrow_forwardCheer for the winners, here
arrow_forwardQuestions, corrections? Contact us!
---
Who made the best remixes in 2008? Who was most active and supportive?
Who made the greatest debut in 2008?
Who do you think deserves this award in 2008 for providing great remixes over a period of 5 years or longer?
What was the c64 remix that impressed you most in 2008?
What Amiga remix did you like best in 2008?
What remix really made a difference in 2008? Things you maybe never heard before? Creative and different takes on originals?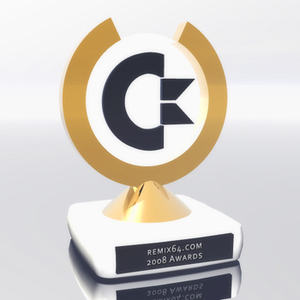 Remixer Of The Year - ROTY 2008 Trophy

Disclaimer: The results are based on votes made by the Remix64.com community. Errors and omissions excepted.

» Report an error