Virgill - Hyperbased - OMG its a CUBE!
Track info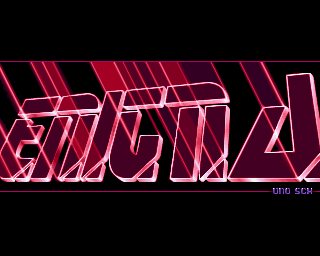 Arranged by:
Member profile:
Original composed by:
Duration:
4:03
Released:
17/08/2008
All-Time charts position:
18
Score:
94%
Story
Arranged for the Bitfellas Remix competition 01
Original by Firefox and Tip / Phenomena.
From the Demo Enigma / Phenomena.
My all time favourite Amigademo.
Software used:
Deluxe paint for painting the waveform.
www.virgill.scene.org
Shouts
Some sound fx of the original are missing and the mix is slightly over the top imho (close to agressive), but the whole track is stunning!
Excellent!
I just love this version! Love the layering in the first part...
This tune was on my to-do-list... I think I should forget about it now... :D
Nice
Virgill makes a Enigma remix - it felt like a red face even before listening. (however, the lead after 2:25 is slightly too dominant/alone)
OMG this is one of the best remixes I've ever heard. As simple as it may be: THANK YOU
Just like Amok said! Very well done, Virgill!
Excellent!
Absolutely fantastic, hats off!
This is very good, too repetetive for my taste though ;) Was thinking of do one myself but I am to lazy to get the cords right (on any amiga tune btw) :|
Superb Production Virgill! - It's a shame I don't know this mod as it sounds great - As a studio gear anorak I'd be interested to know what kit you've used to create this...:)
Nice... Very nice..
Brilliant!!!
Very good
Absolutely fantastic! Great job...:)
Flippin awesome - got it on repeat - yay!
All time rank should be 1 not3! Fantastic-I still have the mod & demo
Incredible theme!!
This tune is awesome. I've had this tune for repeat 3 hours now!
I've never heard this tune before but I like it. Beginning reminds me of Decent and the rest of Second Reality. Good Job.
Yes it has got the power, and outstanding rythm
Too bland.
Excellent work!
One of those songs that just never gets old - and a great remix of it to boot!
Nice remix but it is outshone by Amok's remix
Quality stuff!!! Great arrangement and ideas - an excellent track overall.
Great Track, I can see the demo just listening your tune :D
As good as the first time I heard the orginal mod
Loved the part with "oh my god it's rotating" -- that was exactly our reaction when we first saw it, this brought back some good old memories for sure :D
The best Enigma remix ever IMO - and OHMYGODITSROTATING!!!
What the hell? What a blast!!! Very well done!!!:-)
Fanastic remix virgill!
Best lyrics and the best amiga remix
Such an epic song. Don't miss it.
Good, not so fond of the original tune though. Firefox did better., like Galaxy2 my alltime Firefox fav. But great remix nevertheless!:)
OH MY GOD IT'S ROTATING!
06/09/2020
Technique
Artistic skill
Nostalgia factor
Overall rating
At 3:25, you can hear one of the most iconic voice samples of the Amiga demoscene. I had it stuck in my mind for 30 years.
01/07/2013
Technique
Artistic skill
Nostalgia factor
Overall rating
excellent lyrics! the best amiga remix!
Le meilleur amiga remix écouté jusqu'a