Remix64 Remixer Of The Year 2011 awarded
The Remixer Of The Year awards were presented for the 10th time in 2011, at the ROTY Awards show hosted by SceneSat staff and guests at the crowded SceneSat headquarters. The first part of the show presented a rundown of the year 2011, recaping scene happenings and playing top rated tracks of each month. The actual award show started at roughly 22:35.
The first award Best Newcomer 2011 was awarded to SID legend Peter Clarke by Mordi, who had won the award in 2008.
Hazel won Best Veteran 2011, which was personally handed over by Makke, who was 2006s best veteran.
Daxx and Gibs won Best Amiga Remix for their collaboration on Lotus 3.
The price for Best c64 Remix was awarded to Warhawk (Halcón de la guerra mix) by scene veteran N-JOY. The award was presented by Andreas Wallström of c64.com. It should be noted that Kate Z. would have actually won this category with her Tusker remix, if the votes for both versions (vocal / non vocal) had been combined.
Two Lifetime Achievement awards were awarded to Jan Lund Thomsen and Slaygon for their relentless service to the scene.
The prime price, Remixer Of The Year, was won by Rune-Bertil's and presented by none other than o2, who was Remix64's very first Remixer Of The Year, ten years ago in 2001.
Huge congratulations to all winners and everyone who made it onto the lists!😊
The guestlist at Ziphoid's once more crowded apartment was: Floaf, Mordi, Ceci, Andreas Wallström, o2, Arvid, Malmen, fnordpojk, Makke, Dafunk, Tron, a0d, BST, Gulrak, Herbaculum, Hazel, Uncle Tom, Sir Garbagetruck and Ziphoid.
Don't forget to vote for Remixer Of The Year 2012, which has begun today!
open_in_newDiscussion and congratulations thread
arrow_forwardQuestions, corrections? Contact us!
---
Who made the best remixes in 2011? Who was most active and supportive?
For special achievements around the remixing scene during the years.
What was the c64 remix that impressed you most in 2011?
What Amiga remix did you like best in 2011?
Who do you think deserves this award in 2011 for providing great remixes over a period of 5 years or longer?
Who made the greatest debut in 2011?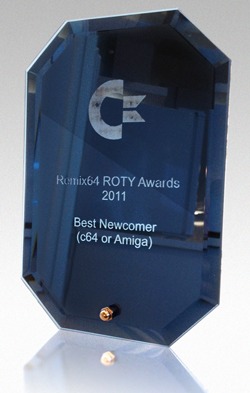 Remixer Of The Year Trophy
Disclaimer: The results are based on votes made by the Remix64.com community. Errors and omissions excepted.
» Report an error