Remixer Of The Year Awards Voting 2023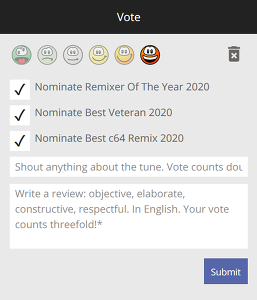 Did you know? You can also nominate artists and tracks directly from the voting box.
How to?
Vote for the best of each category. The lists are unlimited, and they extend as you add entries. During the year you might stumble upon more and more candidates you think worthy for this list - you can return to this page to supplement/review your votes anytime. All entries receive equal scores, so the list order does not matter. This was different before 2015.

Entering text into the forms will drop-down a lookup list. This will help you find your desired mix or arranger promptly. Choosing your entry directly from the drop-down will also make sure that your entry is valid. Valid entries are marked 'ok', invalid entries are marked '?' and do not go into the results. Use the icons to delete an entry or to move it up and down in the list. Note that voting requires that you have JavaScript enabled.

Voting will be available until Sunday, 28th January 2024
(357 days, 6 hours and 30 minutes left for voting)
---
Remixer Of The Year Voting
Info
If you are uncertain about your choice, you might want to browse the charts pages:

Remix.Kwed.Org Charts 2023

AmigaRemix Charts 2023

Scene Albums Charts 2023
Additionally, the table below shows all arrangers who have released a remix in 2023, and indicates if it might be a candidate for Best Newcomer/Veteran.
Badge
Act
Releases
2023
Platform
keyboard_arrow_downAverage

Veteran

Glyn R Brown
1
98%

Adept

Armandox
1
92%

Adept

Eivind Sommersten
2
92%

Veteran

Hazel
1
89%

Veteran

Dr Future
2
88%

Specialist

Steve Foster
2
87%

Remixer

Skaven252
1
85%

Veteran

Makke
1
82%

Newcomer

QUBSiCA
1
81%

Remixer

0supereg0
3
81%

Remixer

Oxx
2
80%

Veteran

moonove
3
77%

Remixer

Tony Fluke73 Wiren
3
77%

Veteran

BeeZerk
1
75%

Newcomer

Soundspawner
1
72%

Remixer

Mozolowski
1
70%

Specialist

SoundLogic
14
69%

Veteran

DashN
1
63%