Remixer Of The Year Awards 2007
Congratulations Dafunk, Peter W, Reyn Ouwehand and daXX, and everyone else who managed to get on the 2007 ROTY lists!

Dafunk: Congratz to other winners and there are no losers here, this is family!

Peter W: I'm still lost for words...


arrow_forwardDiscussion, congrats, laudations and acceptance speeches here!

arrow_forwardQuestions, corrections? Contact us!
---
Who made the best remixes in 2007? Who was most active and supportive?
Who made the greatest debut in 2007?
Who do you think deserves this award in 2007 for providing great remixes over a period of 5 years or longer?
What was the c64 remix that impressed you most in 2007?
What Amiga remix did you like best in 2007?
What remix really made a difference in 2007? Things you maybe never heard before? Creative and different takes on originals?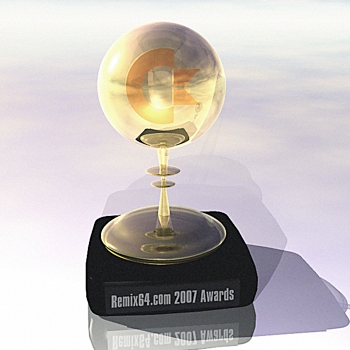 Remixer Of The Year - ROTY 2007 Orb Trophy

Winners: go and jump for joy, showcase the image on your homepages, and keep up the great work! You have deserved it!

Disclaimer: The results are based on votes made by the Remix64.com community. Errors and omissions excepted.