ROTY 2016 Awards - Show Report
On sunday, 19th February 2017, the awards show started broadcasting at 20:00 CET from the SLAY Radio headquaters, hosted by Boz, Slaygon and Leonie. The show featured a run down of the last year's events and popular remixes of each months, with award announcements inbetween.
The Best Newcomer 2016 award was announced and went to Armandox.
The second award went to ROTY award regular daXX as Best Veteran 2016.
Best Amiga Remix 2016 was awarded to Rapture for his epic Pinball Prelude Medley.
Best c64 Remix 2016 went to Mordi for his updated version of Why Me.
The special honour of the Lifetime Achievement Award 2016 was given to Ziphoid for his myriad contributions to the scene, and also to Ben Daglish, who apart from being an original legendary composer of the 80s is still active and around in the scene.
Also SLAY Radio listener Maltus was awarded as Beer-deliverer of the Year as a personal award of the SLAY staff for his extraordinary support (like, you know, actually delivering beer from Germany to the SLAY hq). 😃
Finally, the big moment approached and it was time to award the main price, Remixer Of The Year 2016 and it went to MRT, second year in a row!
MASSIVE CONGRATS!
---
Who made the best remixes in 2016? Who was most active and supportive?
For special achievements around the remixing scene during the years.
Who made the greatest debut in 2016?
Who do you think deserves this award in 2016 for providing great remixes over a period of 5 years or longer?
What was the c64 remix that impressed you most in 2016?
What Amiga remix did you like best in 2016?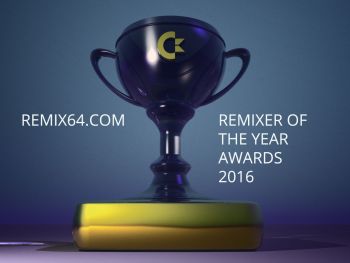 ROTY - Remixer Of The Year 2016

Disclaimer: The results are based on votes made by the Remix64.com community. Errors and omissions excepted.

» Report an error
---
Congrats to Armandox for being the Best Newcomer 2016!!! :-)
---
Congratulations to all winners and a big thanks to all remixers!
---
Huge congratulations to everyone who won and to everyone who made it onto the lists! :)
---
A big thumbs up for all the remxers. And congrats to all the winners.
---
Grats to all winners and thanks for the vote :)
---
Thanks muchly for the vote, and congrats to all listed remixers !! *thumbs up* Great work guys! :)
---
Tomasz Inglot (MRT)
20/02/2017 08:52
Thank you good people for likeing my last year works, That was real pleasure to see you smiles, shouts and comments. There are so many talented persons here so its even greater honor to get any ROTY trophy. Thanks for all remixers, Scenesat and SlayRadio staff, amazing requesters and all of you making C64 music alive. Keep on going friends, I will..
---
How do I listen to the show is it archived somewhere? I can't find it :-(
---
FOUND IT! :-D

http://files.slayradio.org/download.php/Remix64com_-_Remixer_of_the_Year_Awards_2016_20170219.mp3
---
Armandox
20/02/2017 15:53
Thanks to everybody for voting me as best newcomer 2016! Congratulations to all the winners, btw, especially Rapture with his Pinball Prelude Medley, since I did vote for him. Be seeing or hearing y'all soon and keep the music alive!
---
Thank you for hosting this!
---
XxDUSTYxX
20/02/2017 23:33
Congrats to all the winners!
You rock! |m|
---
Congrats to all winners! Special congrats to Ziphoid and Ben - well deserved! Also thanks to the Slay Radio team for the hilarious ROTY 2016 Awards Show. =)
---
NecroPolo
22/02/2017 13:39
C'grats to all the folks! Also, to the ROTY show, it was rad.
---
Congrats for all winners, you done amazing music for this year 2016 !
And special thank to the team for the ROTY Show in Slay Radio :)
---
Noisefloor Björn
19/06/2017 16:38
Congratiulation to all the winners! You are all amazing!
---