ROTY 2014 Awards Results
The awards show kicked off on February, 7th at 8pm at the SLAY Radio headquarters in Gothenburg. It was hosted by Slaygon, Boz and Leoni, who in the tradition of the ROTY awards show, began with a run down of scene happenings and people's favourite remixes of each month.
The first price that was announced went to Robert Engstrand for Best Newcomer, who was interviewed on the show via skype.

Best Amiga Remix was awarded to Scene Veteran Instant Remedy for his "Pinball Dreams - Nightmare" remix.
Mordi was this year's winner for Best Veteran, making him the first person ever to win in all the ROTY categories at least once.
Show host Slaygon won the award for Best C64 Remix 2014 with his remix Platoon (Inexperti belli).
The main award Remixer of the Year 2014 was finally awarded to druu, who was called via Skype to celebrate his victory live on air.
At the show's finale, an audibly affected Boz was awarded the Lifetime Achievement Award for his numerous contributions to the scene since its very beginnings.
Congratulations everyone...
...and as always, there are only winners on these lists. Bravo!😊
Who made the best remixes in 2014? Who was most active and supportive?
For special achievements around the remixing scene during the years.
Who made the greatest debut in 2014?
Who do you think deserves this award in 2014 for providing great remixes over a period of 5 years or longer?
What was the c64 remix that impressed you most in 2014?
What Amiga remix did you like best in 2014?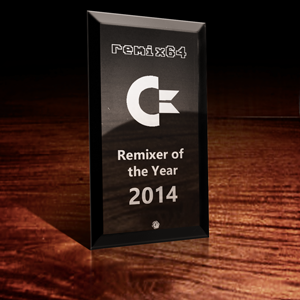 Remixer Of The Year Trophy

Disclaimer: The results are based on votes made by the Remix64.com community. Errors and omissions excepted.

» Report an error
---
Congrats everyone!!!!
You all rock!!
---
Well, what can I say..

Thank you guys so much for voting o/
Completely overwhelmed here :D
---
Thank you so much for the votes! Overwhelmed here too!
---
Martin Dodd
08/02/2015 11:16
Congrats to the winners and thanks to all those that support the remix scene.
---
Daniel "DMTM" Martinsson
08/02/2015 22:16
Congratulations David! And all other contributioners to the scene!

//Regards Daniel Martinsson
---
Congratulations!
Greetings from Istanbul.
---