Remixer Of The Year Awards 2005
Here are the winners of this year's awards, congratulations to everyone! And remember... as always there are no losers on this page! 😊
arrow_forwardDiscussion, congrats, laudations and acceptance speeches here!
arrow_forwardQuestions, corrections? Contact us!
---
Who made the best remixes in 2005? Who was most active and supportive?
Who made the greatest debut in 2005?
Who do you think deserves this award in 2005 for providing great remixes over a period of 5 years or longer?
What was the c64 remix that impressed you most in 2005?
What Amiga remix did you like best in 2005?
What remix really made a difference in 2005? Things you maybe never heard before? Creative and different takes on originals?
For special achievements around the remixing scene during the years.
Who made the best impression on a scene radio show in 2005?
---
Swedish Immigrant of the Year
Who made the most impressive immigration to Sweden in 2005?
| | | |
| --- | --- | --- |
| Rank | Title | Score |
| 1. | Boz | 64738 |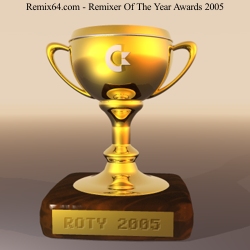 To all winners: Feel free to display the ROTY cup on your homepages (along with your Rank and Category), to boast about your triumph! 😃 Disclaimer: Some of the votes have been disqualified for being invalid (i.E. incomplete data, releases from a different year, votes for newcomers who were not newcomers etc...). The results do not claim to be error-free.