LukHash - SPY vs SPY (live yt vid)
Copyright © 1984 First Star Software Inc.
Track info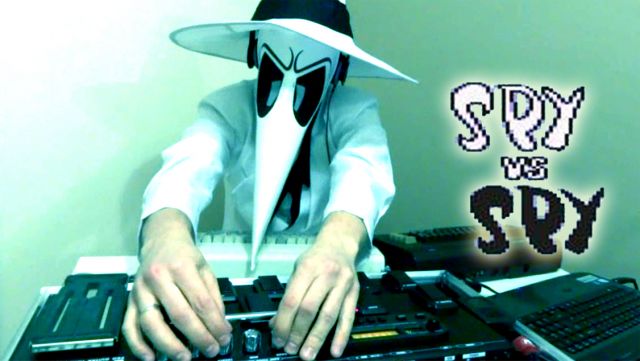 Arranged by:
Member profile:
Original SID:
Original composed by:
Also check out:
Duration:
2:48
Released:
15/04/2013
All-Time charts position:
154
Score:
93%
Story
Live remix of Spy vs. Spy (First Star Software, Inc), composed by Nick Scarim in 1984. Played on C64 packed into VIC-20 case, equipped with Cynthcart cartridge.

Many thanks to Chris Hülsbeck, Rob Hubbard, Jeroen Tel, Martin Galway, Mark Cooksey, Ben Dalglish, David Whittaker and many other SID chip legends for your inspiration over the years..

LIKE FACEBOOK FAN PAGE:
http://www.facebook.com/lukhashdotcom

VISIT OFFICIAL WEBSITE:
http://www.lukhash.com
Vote distribution
Shouts
I can't give anything other than outstanding. It's beautiful and powerful at the same time.
Amazing overall performance!
Damn amazing pure retro
1-20 sek = mmm, ok cover... 20 sek = *falls off the chair* Love you!!!
Shout a comment? OK. WOOOOOOOOOOOOOOOOWWWWW!!! LUKHASH FOR PRESIDENT!
Wooooo, lukhash here in remix64! I loved all of your albums :D great work :)
Powerful remix! I love how the arpeggios are integrated into it - not to mention the original SID. :-) I only wish it was longer. PS: The YouTube video is AWESOME!:)
An amazing cover of a pretty average track. Brought to life here, no doubt about it. I always enjoy hearing the original SID just as a homage to the chip itself, it's lovely sound and limitations. Quality stuff!
Amazing work!!!
This was absolutely brilliant in every way. Loved the vid too.
You rock. But you *could* be a bit easier on those compressors.:)
Stunning. The video is also brilliant! Looking forward to many more remixes...
Love that mask, love that tune.
LukHash simply roxxx!! :-D
I was first introduced to this through facebook and youtube, so no doubt this is one popular remix. My first impression was that the video was better than the tune, still, very good remix!:)
Now don't ya folks even DARE to think about saying you hate SIDs in remixes, whatsoever. Its sound never gets old. This is a brill use of that old beast in an updated context. Hats off, man!
Disgustingly good! LOVE THIS!
I don't like the instrumentation, especially the drums. Also the dynamic compression and the reverb make it hard to enjoy. Yellow for technical brilliance, though!
This should be seen on YT! Epic video and music!
Chip glory at it´s best!
Its such a simple SiD but this remix turns it into an emotional epic. Top marks
Very, very good. Atmosphere, echo, quiet parts... Great job.
Superb track! A harmonious blend of modern and retro feel.
Very good
Not my fav genre, but I have to admit a well done arrangement.
Just can't get enough!!!
One of the best Spy arrangement
That mighty sound!
Love it - especially the original instruments
10/12/2019
Technique
Artistic skill
Nostalgia factor
Overall rating
Great remix, looove it! Great punchy big sound! Hope to hear more from you! Great remix, looove it! Great punchy big sound! Hope to hear more from you!