Remixer of The Year 2017
The year of MRT
This year's show was hosted by Ziphoid and Fnordpojk from SceneSat Radio, broadcast at SceneSat and SLAY Radio on Wednesday, 21st February. The award announcements were accompanied by a rundown of last year's popular releases of each month.
The first award to be announced was Best Newcomer, which was won by SIDNIFY, followed up by SHEN LON, Xandra and Jeroen Tel sharing the 2nd place.
Best Veteran was won by MRT, followed up by Johan Andersson.
The Lifetime Achievement Award was honored to legendary Dr. Rob Hubbard, who thanked the community in a recorded message to the listeners. The topping was a brand new SID tune by Rob, which he did for the Project: Hubbard kickstarter
A special award was presented to Chris Abbott: Continuous and Extraordinary Awesomeness Over the Top Award. He basically started the remixing scene, and kept on investing so much into it, currently working on Project: Hubbard and other projects.
ROTY regular daXX won Best Amiga Remix with Pinball Dreams (Beatbox Ingame Remix)
Best c64 remix joint first place was won by Jeroen Tel with the track Auf Wiedersehen Monty & Commando and SIDNIFY with Supremacy (Overprime mix). Incidentally Supremacy was originally also composed by Jeroen.
The big award, Remixer of the Year was awarded to MRT, who was also Best Veteran and represented several tracks in the top 5 Best c64 Remix category. By this he pulls of a hat-trick, being ROTY three times in a row since 2015!
MASSIVE CONGRATS to everyone who made it on the lists, everyone's a winner here!
---
Who made the best remixes in 2017? Who was most active and supportive?
For special achievements around the remixing scene during the years.
Who made the greatest debut in 2017?
Who do you think deserves this award in 2017 for providing great remixes over a period of 5 years or longer?
What was the c64 remix that impressed you most in 2017?
What Amiga remix did you like best in 2017?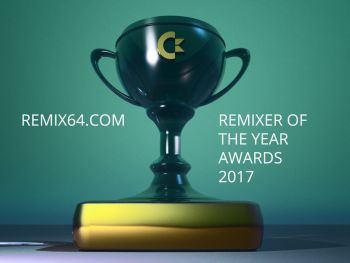 ROTY - Remixer Of The Year 2017

Disclaimer: The results are based on votes made by the Remix64.com community. Errors and omissions excepted.

» Report an error
---
Congratulations to all!! You rock!!
---
XxDUSTYxX
21/02/2018 23:17
Congrats to all winners and huge thanks to the entire SlayRadio team!
Keep it up! |m|
---
Congrats to everyone, especially to Dr. Rob Hubbard who was the inspiration for a good portion of the remixers we have today. Also a big congratulations to Chris Abbott and of course MRT for winning the ROTY for a third straight year. All well deserved.
---
Thank you kind friends for voting to my recent remakes, and even voting for me as someone who deserves Remixer of the Year or Best Veteran trophy for year 2017. Once again i'm happy that i could give you some joy with my tunes. My thanks goes to other remixers - especially newcommers. You made year 2017 very rich and i wish this year will be even more fruitful. Thanks for SceneSat radio stuff for great awards show. Cheers!
---
Congratulations to all the winners and everyone who contributed to the musical heritage of the remix scene last year! Also, many thanks to all of you, voters, listeners and commenters for such a warm welcome by considering us worthy of the Best Newcomer award in 2017 and it is even a greater honour to be given and share the trophy for Best C64 Remix of the Year at the same time. We are grateful for being awarded by this great community who not just keeps the legacy alive but enriches it year by year. And last but not least, thanks go out to SceneSat and SLAY Radio for the awesome ROTY show! :)
---
Congratulations to all winners, especially MRT, who makes the best stuff nowadays (and that showed, too).
---