Remixer Of The Year 2003 Results
Okay, here they are. Congratulations to the winners! And don't forget, on the following list, there are no losers. Thanks to everyone who voted! 😊 Now for the charts: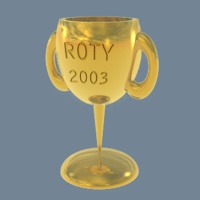 ---
Who made the best remixes in 2003? Who was most active and supportive?
What was the c64 remix that impressed you most in 2003?
Who made the greatest debut in 2003?
What remix really made a difference in 2003? Things you maybe never heard before? Creative and different takes on originals?
| | | |
| --- | --- | --- |
| Rank | Favourite Composer 2003 | Score |
| 1. | Martin Galway | 28 |
| 2. | Rob Hubbard | 27 |
| 3. | Ben Daglish | 7 |
| 4. | David Whittaker | 6 |
| | Jeroen Tel | 6 |
| 5. | Chris Huelsbeck | 3 |
| | Dane Stellan Andersson | 3 |
| | Maduplec | 3 |
| | Tim Follin | 3 |
| 6. | Fred Gray | 2 |
| | Jeff | 2 |
| | Matt Gray | 2 |
| | Steve Rowlands | 2 |
| 7. | Mathew Cannon | 1 |
| | Mermaid | 1 |
| | | |
| Rank | Best Scene Website 2003 | Score |
| 1. | remix64.com | 47 |
| 2. | remix.kwed.org | 24 |
| 3. | c64audio.com | 5 |
| 4. | hvsc.c64.org | 4 |
| | www.c64.sk | 4 |
| 5. | radio.c64.org | 3 |
| | www.c64hq.com | 3 |
| | www.lemon64.com | 3 |
| 6. | www.robhubbard.co.uk | 2 |
| 7. | c64.org | 1 |
| | www.c64.com | 1 |
| | www.c64files.com | 1 |
| | www.forum-64.de | 1 |
| | | |
| Rank | Best CD 2003 | Score |
| 1. | Sidologie - Marcel Donne | 26 |
| 2. | Remix64 V2 - Into Eternity | 23 |
| 3. | Project: Galway | 8 |
| 4. | Crystal Dreamscapes | 4 |
| | Run/Stop Restore - PPOT | 4 |
| 5. | Instant Remedy | 3 |
| | Loading Ready Run - PPOT | 3 |
| 6. | Galway Remixed - Reyn Ouwehand | 2 |
| | Remix64 V1 - 80s | 2 |
| 7. | 8-Bit Stylez | 1 |
| | Back in Time III | |