Fabian Del Priore (Rapture)
Member Profile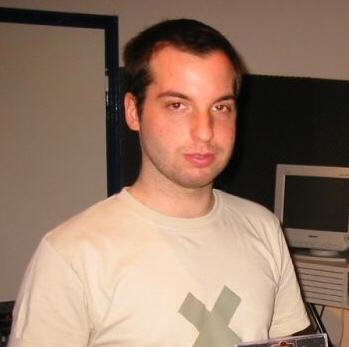 Handle:
Rapture
Real name:
Fabian Del Priore
Homepage:
Contact:
Location:
Germany
Born:
1978
Joined Remix64:
April 2002
Remix projects:
Voting profile:
About me
Hi there! I'm a composer, arranger, producer and remixer, best known for my game music compositions such as Giana Sisters: Twisted Dreams, Giana Sisters DS, Extreme Assault and the Cultures computer game series.

My tracks also appear on different video game and scene music compilations and remix CDs such as Immortal (Amiga remix albums), RevivalST, Remix64, The Sound of SceneSat among many others.
Please check out my Patreon, your support is greatly appreciated, thanks!
https://www.patreon.com/fabian_del_priore
Cheers,
Fabian
Releases
keyboard_arrow_downReleased
Title
Remixed by
Duration
Platform
Composed by
Score
28/06/2020
Datastorm
Fabian Del Priore
5:14
Scene Albums

Timm Engels
76%
28/06/2020
Blob
Fabian Del Priore
5:36
Scene Albums

Martin Iveson
83%
17/05/2020
Cyberpunks World 1
Rapture
5:14
AmigaRemix

Adrian Cummings
85%
17/05/2020
Apprentice Title (Dream Dancer)
Rapture
4:38
AmigaRemix

Chris Hülsbeck
84%
29/01/2020

R

Traz (Rapture Remix)
Fabian del Priore
4:26
Remix.Kwed.Org

Jeroen Kimmel
80%
18/07/2019
Sunset Shuffle (Pina Colada Mix)
Fabian del Priore
3:53
Remix.Kwed.Org

Johan Samuelson
86%
21/11/2018
Zool Rave
Rapture
4:28
AmigaRemix

Patrick Phelan
80%
08/08/2017

R

Yo! Joe! - Haunted House
Rapture
7:35
AmigaRemix

Michael Bialas
92%
07/02/2017

R

Parasol Stars Medley
Rapture
4:30
AmigaRemix

Matthew Cannon
82%
08/03/2016

I

R

Pinball Prelude Medley
Rapture
13:20
AmigaRemix

Echo / LSD
96%
30/11/2015
Premiere - Fantasy
Rapture
5:53
AmigaRemix

Martin Iveson
86%
09/07/2015

R

Harlequin - TVee Wonderland (ingame tune 5)
Rapture
7:33
AmigaRemix

Barry Leitch
91%
02/05/2015
Galactic: The Xmas Edition - Ingame
Rapture
3:41
AmigaRemix

Jussi Pietilä
88%
27/01/2015

R

Captain Planet and the Planeteers - Linka
Rapture
4:15
AmigaRemix

Antony Crowther
89%
11/04/2011
Wolfchild
Fabian Del Priore
4:27
Scene Albums

Martin Iveson
0%
11/09/2005
DBA6
Fabian Del Priore
4:36
Scene Albums

Scavenger
78%
11/09/2005
Quick and Silva
Fabian Del Priore
8:25
Scene Albums

Chris Hülsbeck
86%
07/03/2003

R

Hollywood Poker Pro
Rapture
4:13
AmigaRemix

Chris Hülsbeck
77%
21/06/2002
Red Max
Fabian Del Priore
2:45
Scene Albums

David Whittaker
81%
21/06/2002
Hollywood Poker Pro
Fabian Del Priore
2:43
Scene Albums

Chris Hülsbeck
75%
10/04/2002
The Last V8 (Original Mix)
Fabian del Priore
4:29
Remix.Kwed.Org

Rob Hubbard
75%
10/04/2002
Armalyte (Industrial Mix)
Fabian del Priore
3:55
Remix.Kwed.Org

Martin Walker
68%
04/04/2002
Hollywood Poker Pro
Fabian del Priore
4:13
Remix.Kwed.Org

Chris Hülsbeck
76%
01/01/2002
Jim Power - Main Title
Fabian Del Priore
-
Scene Albums

Chris Hülsbeck
70%