Jason Mackenzie (Kenz)
Member Profile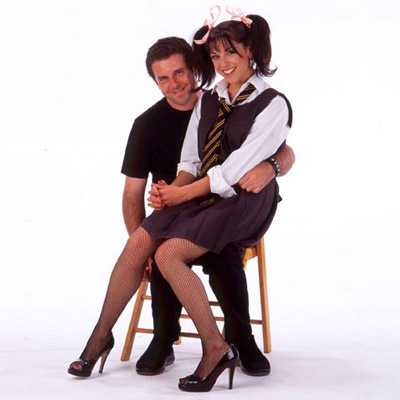 Handle:
Kenz
Real name:
Jason Mackenzie
Homepage:
Contact:
Location:
United Kingdom of Great Britain and Northern Ireland
Joined Remix64:
December 2001
Remix projects:
Voting profile:
About me
Hiya chums!

My name's Kenz and I'm the strange person behind the Binary Zone PD / Xmas Chortles / Bouff.tv saga. I've been running Binary Zone since 1989 and am still running it today!

I've been a fan of C64 remixes since I first heard the Datahits tape and Robs Thalamusik remix on the Zzap! Sampler cassette.

I totally *adore* C64 music in any form (the original SIDs and all these fab new fangled remixes) and spend many happy hours blasting my brain with them via winamp.

And, erm, that's it I think!

Achievements
ROTY 2001
1 Most Innovative Remix (c64 or Amiga)
Releases
keyboard_arrow_downReleased
Title
Remixed by
Duration
Platform
Composed by
Score
27/08/2018
Flimbos Quest High-Score (90s House Mix) (from Karma 64)
Slow Poison
3:30
Scene Albums

Johannes Bjerregaard
0%
12/07/2015
Way of the Exploding Fist
Slow Poison
3:26
Scene Albums

Neil Brennan
0%
04/06/2005
Think Twice III (Frankie Boz Edit)
DjUnz! feat Perhaps-a-Doobie
3:24
Remix.Kwed.Org

Jeroen Kimmel
60%
04/01/2005

I

R

Think Twice III (Now You're Not Here)
Perhaps-a-Doobie
2:57
Remix.Kwed.Org

Jeroen Kimmel
76%
18/11/2002
The Great Microprose Soccer Escape (BIT Live Mix)
Slow Poison
2:50
Remix.Kwed.Org

Martin Galway
58%
29/09/2002
Crazy Karma Comets
Slow Poison
5:07
Remix.Kwed.Org

Rob Hubbard
72%
08/09/2002

R

Wizball (Music for Starchildren New Age Mix)
Slow Poison
3:44
Remix.Kwed.Org

Martin Galway
85%
21/06/2002
Thrust
Slow Poison
6:13
Scene Albums

Rob Hubbard
86%
06/05/2002

I

R

1942 High-Score Theme (You-were-there mix)
Perhaps-a-Doobie
2:54
Remix.Kwed.Org

Mark Cooksey
69%
09/01/2002

I

Parallax Stroll (Prototype Mix)
Slow Poison
2:50
Remix.Kwed.Org

Martin Galway
80%
03/01/2002
Miami Vice
Slow Poison
3:52
Scene Albums

Martin Galway
75%
03/01/2002
Delta Victory
Slow Poison
2:12
Scene Albums

Rob Hubbard
75%
03/01/2002
Wizball
Slow Poison
3:50
Scene Albums

Martin Galway
75%
03/01/2002
Mutants
Slow Poison
4:02
Scene Albums

Slow Poison
75%
03/01/2002
Arkanoid
Slow Poison
4:01
Scene Albums

Martin Galway
76%
03/01/2002
Chimera
Slow Poison
3:46
Scene Albums

Rob Hubbard
75%
03/01/2002
Way of the Exploding Fist
Slow Poison
3:24
Scene Albums

Neil Brennan
81%
03/01/2002
Return of the Mutant Camels 2
Slow Poison
4:22
Scene Albums

Rob Hubbard
89%
03/01/2002
Gerry the Germ
Slow Poison
3:41
Scene Albums

Rob Hubbard
75%
03/01/2002
BMX Kidz High Score
Slow Poison
2:12
Scene Albums

Jori Olkkonen
75%
03/01/2002
Sanxion
Slow Poison
3:45
Scene Albums

Rob Hubbard
81%
03/01/2002
Flimbo's Quest
Slow Poison
3:29
Scene Albums

Johannes Bjerregaard
81%
03/01/2002
Crazy Comets
Slow Poison
5:28
Scene Albums

Rob Hubbard
81%
03/01/2002
Monty on the Run
Slow Poison
6:30
Scene Albums

Rob Hubbard
79%
31/12/2001

I

A William Wobbler Christmas
Slow Poison
2:29
Remix.Kwed.Org

Ben Daglish
75%
19/12/2001

I

Zoids (Imperial March Virtuoso Version)
Slow Poison
4:42
Remix.Kwed.Org

Rob Hubbard
83%
15/12/2001

R

Game Over
Kenz
5:05
Remix.Kwed.Org

Martin Galway
75%
10/12/2001

I

Zoids (Prototype Mix)
Slow Poison
5:36
Remix.Kwed.Org

Rob Hubbard
80%
29/11/2001

I

Space Harrier (BIT Live Arcade Mix)
Slow Poison
3:07
Remix.Kwed.Org

Mark Cooksey
76%
03/11/2001

I

Arkanoid Victory Theme (BIT Live Edit)
Slow Poison
3:24
Remix.Kwed.Org

Martin Galway
70%
29/10/2001

I

Monty on the Run Hi-Score (Club Singer mix)
Perhaps-a-Doobie
2:13
Remix.Kwed.Org

Rob Hubbard
83%
23/10/2001

I

Arkanoid (Vocanoid a-crapella mix)
Perhaps-a-Doobie
2:25
Remix.Kwed.Org

Martin Galway
79%
16/05/2001
Parallax Stroll
Slow Poison
2:32
Scene Albums

Martin Galway
83%
16/05/2001
Ancestors (Zoids Desert Battle)
Slow Poison
5:08
Scene Albums

Larry Fast
85%
16/05/2001
Delta In-game
Slow Poison
11:51
Scene Albums

Rob Hubbard
86%
16/05/2001
Trap Part 1
Slow Poison
3:32
Scene Albums

Ben Daglish
75%
16/05/2001
Eve of the War
Slow Poison
0:19
Scene Albums

Jeff Wayne
70%
16/05/2001
Trap Part 2
Slow Poison
5:44
Scene Albums

Ben Daglish
77%