Holger Lagerfeldt (lagerfeldt)
Member Profile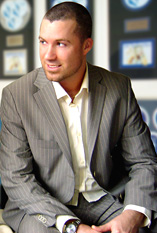 Handle:
lagerfeldt
Real name:
Holger Lagerfeldt
Homepage:
Contact:
Location:
Denmark
Born:
1974
Joined Remix64:
June 2003
Remix projects:
Voting profile:
About me
I'm a huge fan of SID chip music.

When I was younger I made 4 hours of tape recordings with C64 music, and listened to it non-stop for years.

Today I am a professional audio engineer, and before that I was a producer and songwriter. My first international hit was inspired by the music from the C64 game Dan Dare III by Jeroen Tel/Maniacs of Noise.

I most definitely owe a lot to the C64 and the fantastic, pioneering composers who started it all.
Achievements
ROTY 2003
1 Best Newcomer (c64 or Amiga)
2 Most Innovative Remix (c64 or Amiga)
Releases