infamous
Member Profile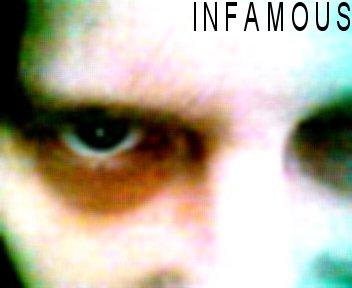 Handle:
infamous
Homepage:
Contact:
Location:
United Kingdom of Great Britain and Northern Ireland
Born:
1979
Joined Remix64:
April 2003
Remix projects:
Voting profile:
About me
Once called the rob hubbard of the remake scene .. probably the nicest thing anyone has ever said about my music.
Born once.
I write music - I've been doing it for some time too.
Releases
keyboard_arrow_downReleased
Title
Remixed by
Duration
Platform
Composed by
Score
14/09/2020
Future Knight - the origin remix
Infamous
3:50
Remix.Kwed.Org

Ben Daglish
72%
11/09/2020
Future Knight
Infamous
4:06
Remix.Kwed.Org

Ben Daglish
83%
25/08/2020
Lightforce
Infamous
7:53
Remix.Kwed.Org

Rob Hubbard
85%
18/08/2020
Phantoms of the Asteroid (Arok edition)
Infamous
3:45
Remix.Kwed.Org

Rob Hubbard
66%
18/08/2020

R

Boulder Dash (Arok edition)
Copyright © 1984 First Star Software Inc.
Infamous
2:14
Remix.Kwed.Org

Peter Liepa
86%
09/08/2015
Lazy Jones
Infamous
4:54
Remix.Kwed.Org

David Whittaker
83%
09/08/2015
Brutality
Infamous
3:39
Remix.Kwed.Org

Zoltán Szalai
85%
06/07/2012

I

R

Parallax
Infamous
11:50
Remix.Kwed.Org

Martin Galway
81%
11/03/2011

I

R

Cauldron (Drumstep will chew your lips off mix)
Infamous
4:33
Remix.Kwed.Org

Keith Miller
81%
21/02/2011
Terra Cresta
Infamous
3:52
Remix.Kwed.Org

Martin Galway
78%
13/02/2011

R

CyberPunks - Level 1
Infamous
3:58
AmigaRemix

Adrian Cummings
64%
01/11/2010

I

Auf Wiedersehen Monty (ByeBye Monty mix)
Infamous
5:38
Remix.Kwed.Org

Rob Hubbard, Ben Daglish
70%
29/10/2010
For Raf
Infamous
4:46
Remix.Kwed.Org

Mateusz Szymañski
67%
29/10/2010
High Voltage
Infamous
3:49
Remix.Kwed.Org

Tamás Temesi
76%
12/04/2010
Arkanoid
Infamous
6:14
Remix.Kwed.Org

Martin Galway
72%
02/01/2010

I

The End (fr-08)
Infamous
4:46
Remix.Kwed.Org

Ciaran Hamilton
92%
08/03/2009
Chaos Engine
Infamous
3:43
AmigaRemix

Farook & Haroon Shamsher
71%
19/02/2009
Twinky goes raving
Infamous
2:42
Remix.Kwed.Org

Richard Löwenstein
72%
19/02/2009
Platoon (scenesat mix)
Infamous
3:10
Remix.Kwed.Org

Jonathan Dunn
74%
19/02/2009
Comic Bakery
Infamous
3:39
Remix.Kwed.Org

Martin Galway
81%
17/12/2008
Robozone
Infamous
2:54
Remix.Kwed.Org

(composer unknown)
91%
19/11/2008
Marble Madness
Infamous
3:29
Remix.Kwed.Org

(composer unknown)
82%
04/06/2008
Blastar Title retouched
Infamous
3:47
AmigaRemix

Martin Iveson
70%
04/06/2008
VivaminE 2008
Infamous
3:52
AmigaRemix

Daxx of TRBS
69%
03/12/2007
Human Race 2007
Infamous
6:21
Remix.Kwed.Org

Rob Hubbard
61%
03/12/2007
Wizball 2007
Infamous
5:05
Remix.Kwed.Org

Martin Galway
77%
02/12/2007
Creatures 2 redux
Infamous
4:01
Remix.Kwed.Org

Steve Rowlands
70%
28/11/2007
Spy Vs Spy
Copyright © 1984 First Star Software Inc.
Infamous
3:14
Remix.Kwed.Org

Nick Scarim
78%
22/04/2007

R

Pro Bmx Simulator
Infamous
3:10
Remix.Kwed.Org

Matt Gray
91%
01/11/2006

I

Auf Wiedersehen Monty nuclear fallout edit
Infamous
3:51
Remix.Kwed.Org

Rob Hubbard, Ben Daglish
70%
01/11/2006

I

Last Ninja 2
Infamous
2:55
Remix.Kwed.Org

Matt Gray
68%
28/08/2006
Zool - Zoolrave - Zooltopia
Infamous
3:14
AmigaRemix

Patrick Phelan
71%
22/08/2006
Fury of the Furries - The Castle - Full on Furry Fury
Infamous
4:24
AmigaRemix

Frédéric Motte
66%
14/06/2006
Creatures
Infamous
2:09
Remix.Kwed.Org

Steve Rowlands
69%
18/04/2006

I

Exolon
Infamous
3:25
Remix.Kwed.Org

Nick Jones
69%
08/12/2005
northstar - the most northern point
Infamous
2:50
Remix.Kwed.Org

Ben Daglish
66%
15/07/2005
Premiere - Level 6 - Out On Video
Infamous
4:01
AmigaRemix

Martin Iveson
73%
08/06/2005
Xenophobe
Infamous
3:02
Remix.Kwed.Org

Barry Leitch
78%
18/01/2005

R

Cobra (9mm remix)
Infamous
3:43
Remix.Kwed.Org

Ben Daglish
59%
02/12/2004
Thrust (The Method)
Infamous
4:37
Remix.Kwed.Org

Rob Hubbard
64%
02/07/2004

I

R

Driller (Darkside of the moon)
Infamous
6:47
Remix.Kwed.Org

Matt Gray
82%
02/07/2004

I

Galway is God (Arkanoid)
Infamous
3:55
Remix.Kwed.Org

Martin Galway
74%
31/05/2004
Kid Chaos Running Red Remix
Infamous
5:12
AmigaRemix

Pipe Smokers Cough
65%
28/02/2004

I

R

Cannon Fodder 2004 Remix
Infamous
4:26
AmigaRemix

Jon Hare, Richard Joseph
74%
19/02/2004
Kid Chaos (Chaotic Circus Remix)
Infamous
4:29
AmigaRemix

Pipe Smokers Cough
69%
19/02/2004
Captive 2 (End Credits Remix)
Infamous
5:10
AmigaRemix

Mark Knight
74%
08/02/2004
Nemesis (easter island mix)
Infamous
4:00
Remix.Kwed.Org

(composer unknown)
67%
02/12/2003
Rambo 3 (Remember the heroes)
Infamous
3:25
Remix.Kwed.Org

Jonathan Dunn
66%
20/11/2003

I

R

Feud (Herb garden remix)
Infamous
4:12
Remix.Kwed.Org

David Whittaker
70%
15/10/2003

R

Terra cresta (straight mix)
Infamous
3:57
Remix.Kwed.Org

Martin Galway
61%
08/08/2003

R

Cauldron II (claustrophobic edit)
Infamous
5:03
Remix.Kwed.Org

Richard Joseph
75%
14/07/2003
Human race (bitz n bleeps mix)
Infamous
4:03
Remix.Kwed.Org

Rob Hubbard
64%
20/06/2003
Hawkeye (fluffy mix)
Infamous
6:18
Remix.Kwed.Org

Jeroen Tel
48%
20/06/2003
Myth (rectal hedgehog mix)
Infamous
4:07
Remix.Kwed.Org

Jeroen Tel
51%
20/06/2003

I

Fury of the Furries - European Fury Remix
Infamous
4:42
AmigaRemix

Frédéric Motte
66%
08/06/2003

R

Trantor (Storm cometh remix)
Infamous
3:26
Remix.Kwed.Org

David Whittaker
63%
30/05/2003

R

Northstar
Infamous
3:29
Remix.Kwed.Org

Ben Daglish
61%
29/03/2003
Uridium 2 loader (turn the page Remix)
Infamous
3:36
AmigaRemix

Jason Page
61%
16/02/2003

I

R

Creatures 2 (Infamous remix)
Infamous
3:30
Remix.Kwed.Org

Steve Rowlands
59%
22/11/2002

I

Feud (lost toadflax remix)
Infamous
3:51
Remix.Kwed.Org

David Whittaker
56%