ROTY 2022 - The results are in!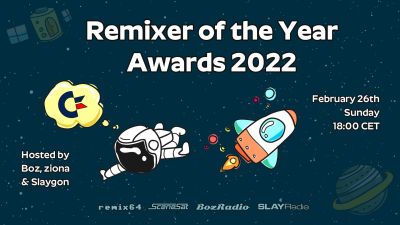 The live show blasted off from the ceremonial SLAY Radio HQ on Sunday, 26th February 2023 at 18:00 CET. Hosted by ziona, Slaygon and Boz the show kicked off with the usual recap of each month's news and highlights of 2022.
Half an hour into the show, the first award of the night, Best Newcomer 2022 was announced, won by Oxx. The follow up award Best Veteran went to previous years ROTY, Dr Future!
gibs version of Romeo Knight classic Cream Of The Earth won Best Amiga Remix. Best c64 remix was scored by Fist2 - The Legend Continues (feat. Vaggelis) by XxDUSTYxX.
UPDATE: due to a techical problem, Parallax Mini EP - The Past, Present and Future by Tim Forsyth scored #5 while it should have scored #1 in Best c64 Remix category. We resolved this by having a shared #1. Our apologies for this honest mistake.
Best Lifetime achievement was won well deservedly by Mordi, the remixing scene's powerhouse over the years. Not only super supportive to the scene and community, but also won every ROTY award possible during the years.
Finally, JLD scored the big one, Remixer of The Year 2022!
Check the results page for the full lists, and if you missed the show you can watch it there, too.