Slaygon: Cinematic 64 - review by LaLa
SID tunes delivered in modern epic cinematic style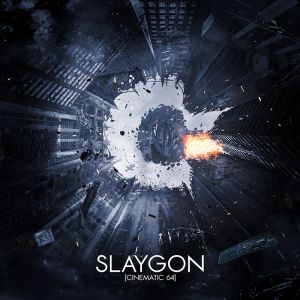 DISCLAIMER: I have contributed to the Back In Time Symphonic Collection Kickstarter project. This review is based on a pre-release version of the album provided to me.

This album is next in line coming out of the ambitious Back In Time Symphonic Collection Kickstarter project that concluded way back in 2015, but this project is the gift that keeps giving. And oh boy, was this latest release worth the wait!
If you knew nothing about it beforehand, the album's title can be a bit misleading. This is not John Williams or Alan Silvestri remaking SID tunes - think gritty, industrial, electronic cinematic, think of the soundtracks of Hans Zimmer and John Carpenter. Which, if you are familiar with Slaygon's remixes from RKO, is a style perfectly fitting of this album's creator. Or vice versa. Either way, a happy marriage of both!

In this age of streaming not much attention seems to be paid to cover art, even though they still provide a very important visual clue to the listeners to help them instantly identify a collection of tunes (which we used to call albums). Please, stop and take a good, long look at the artwork accompanying this album in total silence and notice all the details that went into it. This graphic,
made by the talented Trevor Storey, is a perfect expression of the album's content: from its dark color palette to the anticipation of a large action sequence that's about to happen, all focused on the good old Commodore-64 in the middle.

Which brings us to the music itself. Right out of the gate Driller sets the tone: deep drones and staccato strings overlaid with female vocals, larger- than-life drums driving a marching rhythm - the album has arrived! Which, coincidentally, is also the subtitle of this track (Arrival). In fact, this opening track sounds more like a trailer for the movie we're about to, erm, hear.

After that it's one great piece of music after another: a solo (electric?) violin on Rambo which also features operatic vocals; the ticking clock of a time-bomb provides ample tension in Deliverance which ends with the enigmatic laughter of children. I think the original SID of Aztec Challenge is pretty dark by itself - it's even darker here. Not pure evil dark, but the slowed down tempo and the raspy, shattering bass would definitely make me run away from this track in a dark alley. A woodwind-dominated break provides some reprieve before we are pulled back into Beelzebub's simmering lava for the conclusion of this track.

Opus II will surely satisfy fans of John Carpenter, as his signature style is all over this track, with some sexy sax phrases added to a few bars here and there for good measure. Then comes the longest track of the album, Mutants. Be prepared to be blown away by this track if you haven't yet been by any of the previous ones! It's gritty, highly textural, with lots of distortion and industrial sounds - just be careful with that volume button so it doesn't blow out your sub-woofer. It has quickly become my favorite track of Cinematic 64.

The album concludes with Knucklebusters, delivered by overdriven electric guitars masterfully played by fellow remixer Vaggelis Papadopoulos, with a raspy electronic bass providing the foundation. It may only be a third of the length of the original SID, but it compresses the frenzy of it all into a massive set of 5 minutes. I think this is my new favorite Knucklebusters remix! Still, I would love to hear the full 16+ minutes of it in this style and with Vaggelis shredding his guitars to pieces on it.

Every track of the album has a subtitle which tries to evoke specific scenes from an imaginary movie to this soundtrack. I appreciate it when there's an overarching concept behind an album (when it's not just a collection of tunes), when it also tells a story, and this album surely delivers. Every piece is highly evocative and they all deliver a punch in one way or another.

I think my only complaint about this album is its total length, which at 34 minutes feels short. Which is probably better than if it felt too long with the same length, indicating that I couldn't wait for it to be over. Not here, though! After the last notes I was left wanting more. I do feel there's a lot more potential left unearthed in this concept.

But while I impatiently await the release of Cinematic 64: Season 2, I will keep listening to this first one at full blast!
Well done, Slaygon!
Review by LaLa, December 2019