Encore500 - Review by LaLa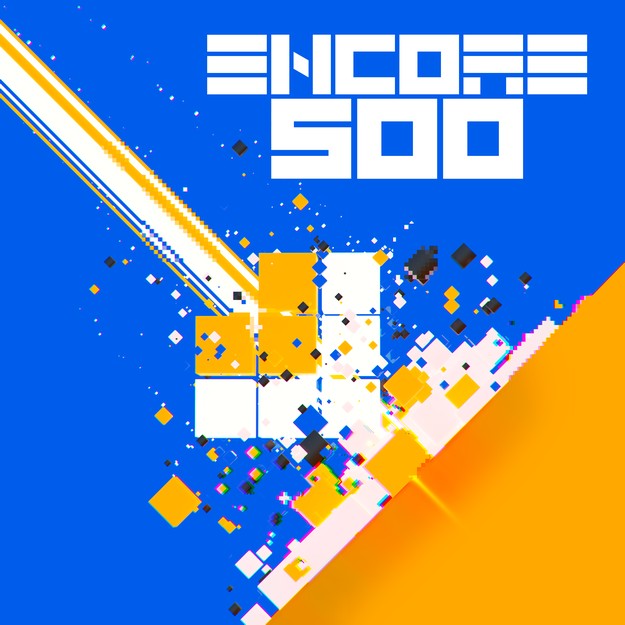 Legendary Amiga music, made in the past by legends, brought into the present by legends.
The same team that brought you Encore64 that was full of wonderful Commodore-64 covers has just released another remix album merely a year and a half later, except this one is 60% larger (with 21 tracks instead of 13), and contains 100% more Amiga remixes. (And if that doesn't give you a big enough hint for why the number in the album's title is 500, shame on you.)
Like its predecessor, Encore500 also serves itself up buffet-style, with many different genres represented in its track listing from seveal different remixers, many of whom are well-known Amiga musicians themselves: Jogeir Liljedahl, Romeo Knight, Firefox, Turbo Knight, Barry Leitch - just to name a few.
Now, before we go on, I have a confession to make: I never owned an Amiga myself. Most of you know me as a person who is nuts about SID music. However, back in the days I also took every opportunity I could to visit friends who did have some flavor of the Amiga and I spent many hours recording MOD music in their homes onto cassette tapes which I then listened to almost as much as my cherished C64 audio tapes. And then later on an IBM XT I had a primitive digital-to-analog converter on its parallel port on which I used to listen to MOD tunes, and then even later I continued that musical passion with the superb Gravis Ultrasound soundcard with its pristine 32 hardware-mixed channels. Ahh, those were the days, right?... This album sure brought up some sweet, sweet memories from those times!
Buy anyway, enough about me! What about this album? I'll try to summarize it in just one word: breathtaking! The amount of sheer talent represented on this album is enough to make one's head spin: you'll hear Mordi remix Jogeir Liljedahl, you'll hear Jogeir Liljedahl remix Chris Hülsbeck, and you'll also hear Jogeir Liljedahl remix Jogeir Liljedahl. Romeo Knight (Eike Steffen) covered both a Karsten Obarski classic and one of his own MODs, Firefox (Jimmy Fredriksson) remixed Tomas Dahlgren (Uncle Tom), Glyn R Brown remixed Tim Wright... and the list of Amiga celebs goes on and on track after track! Phiew!
However, talent alone doesn't make a successful album. What does is when all these talented musicians get together, roll up their sleeves and work together (and also by themselves) for weeks and weeks laboring over every single note and bar and verse and chorus to create something magical. And the result in this case is Encore500, a wonderful journey through classic and also some lesser-known Amiga tracks.
Now, look, I will not go through all the 21 tracks of this album one by one, otherwise I would probably never finish this article, and I think you're better off spending that time to listen to the album itself, anyway. So, if reading about music bores you and you'd rather listen to it yourself, feel free to do that right now!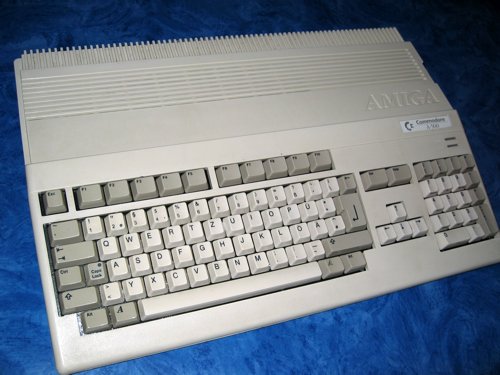 But what I will tell you is that the album starts off strong: Liljedahl got Mordified! (Again!) Can't go wrong with Mordi starting an album with a remix of Oro Incenso, with the original's vocal chops and all... Next up, Stardust Memories (original by Volker Tripp aka. Jester) is a danceable, but also more subdued synthwave piece with some very cool vocoded singing, all done by Turbo Knight (Antti Huurinainen). Test Drive II - The Duel by Kris Hatlelid got the Danko treatment, also featuring Romeo Knight on one of his many guitars. Next up, Jochen Hippel's Amberstar title music got remixed by Jogeir Liljedahl - and oh my gosh, that intro sends chills down my spine! But it's very lyrical throughout, and it's a rather emotional piece. My only wish is that the vocal was featured more than just in the intro. Glyn R Brown picked a tune from the game Leander by Tim Wright (CoLD SToRAGE) to remix. The original one is fairly cinematic, too, so it was a perfect fit for that special electronic-cinematic treatment that only Glyn can provide. He is in full force here commanding a spectrum of instrumentation that several Hollywood music producers would be envious of. Just majestic!
Personally, I think the original Rallye Master Obarski tune is a bit uninspiring (ducks hail of rotten tomatoes thrown his way...), but Romeo Knight makes the most out of the material with a genius idea: make it into a Depeche Mode pastiche! Needless to say, it's spot on. Then on the next track we get a sonic nirvana from Peter Clarke as he tackles Complications in a fresh new way only he can: it's funky, it's soulful - it's the 1970s again, baby! I am pretty sure Danko approves it, too. Mattias Brian is next with his remix of Paranoimia Crack Intro (original by Felix Schmidt (TSM)), which at times turns jazzy - until it turns into a more experimental piece halfway through. Nothing wrong with that, in fact, on the contrary! As a nice touch, it even features some disk drive noise in the outro - it cracked me up! It is followed by another Jogeir Liljedahl remix, Atmosphere (Double Dragon II)(original by Dahlgren) - its style is an unusual choice for Jogeir, but it's fast-paced electronica at its best. And then we're Nearly There at the halfway point of the album - the original MOD by Jogeir is pretty Parallax-esque (try to say that three times in a row), which was turned into a great synthwave remix by Mygg (Jonas Sarvik) & Turbo Knight.
Whoops...
Okay, well, wait a minute... Didn't I just say that I will NOT go through each track of this album one by one? Oh, well, if I got this far into it already, I may as well finish it up... Feel free to skip my rambling and jump forward to my conclusion below!
Let's Continue Digging In...
Track #11 is a tune from the game Cannon Fodder by Turbo Knight (original by Jon Hare), featuring Sunesis on vocals - a dark, moody, synth-heavy piece. I told you this album is a smorgasbord of various styles! It's very nicely done, to say the least. Then Firefox decided to remix Occ-San-Geen by Dahlgren - and occ-my-god! What a great uptempo, dancey, staccato-heavy remix! It sounds like a modern chiptune mixed with heavy italo disco and it really takes me back. Fantastic! Firefox's remix is followed by a remix of classic Firefox tunes: we get an 11 minute long (!) medley of several of his tunes courtesy of Martin Wall (Mantronix) titled Never Ending Amiga Love. It really doesn't feel like that long, the time just flies by, which is a testament to how well it is all weaved together. Just for the sake of completeness, here are the Amiga tunes featured in this medley: Megademo Tune v2, It's No Secret, Let's Party, Low Altitude, and, of course Never Ending Love.
Then we get another long track as Jogeir and Rapture (Fabian Del Priore) tackles a great classic: the Turrican 2 Title tune by Chris Hülsbeck. I lost count how many times I listened to the original on my audio tape... This remix stays fairly faithful to the original while bringing it into the 21st century with a modern sound palette. It does feature some interesting twists, though, so keep your ears open!
And we are not done with the long tracks, yet: Forests by Barry Leitch clocks in at over 8 minutes. Some of us may actually know this tune by 4-Mat (Matt Simmonds) as The Golden Ages. Regardless of how you might've called this MOD in the past, Barry did a great job mixing acoustic guitars with an almost medieval soundscape. (Hmm, I wonder if that's actually Peter Clarke tickling the unplugged guitar strings on this track?) Verrrry nice!
Next is Obarski's endless classic Endtheme (see what I did there: endless vs. end theme?... What, you don't like my puns?...) remixed by Jogeir Liljedahl. I fell in love with his version right away and I can't stop listening to it - he extended the short original into a beautiful five and a half minute long chill piece, and I'm so glad it also features that wonderful melody line of the original prominently. Sorry, all other talented remixers, but we have a winner - this is my absolute favorite from the album, bar none.
Tomsk (Barry Thompson) had the unenviable job of following that with a remix of a tune from Battle Squadron (original by Ron Klaren). But he tackled the challenge with grace: it features a skillful combination of violins, strings, guitars, and drums (and probably a bunch of other instruments, too) to create a uniquely elegic remix that is becoming his signature style. Next up is a 180-degree turn: Romeo Knight remixed his own RSI-Hard tune, which stays true to its title - it's heavy metal, exactly what's demanded by the original MOD in the first place. Just superb! It is followed by Teo who is relentless in his rage as he remixes Volker Tripp's Rage is Relentless (enough with the puns already! - ed.). Teo managed to recreate the sounds of the original MOD so faithfully, I had to listen to both the original and his remix multiple times to believe my ears. The penultimate track on the album belongs to Vincenzo, who preserved that unmistakeable Amiga-ish feel of the original Body Blows (by Allister Brimble) rather well.
The album concludes with Jogeir's and Rapture's coop remix of Jogeir's own piece, Beetlemusic. It's in-line with the fun nature of the original, except it sounds even more fun on this album. It's jazzy and light, it's a breath of fresh air!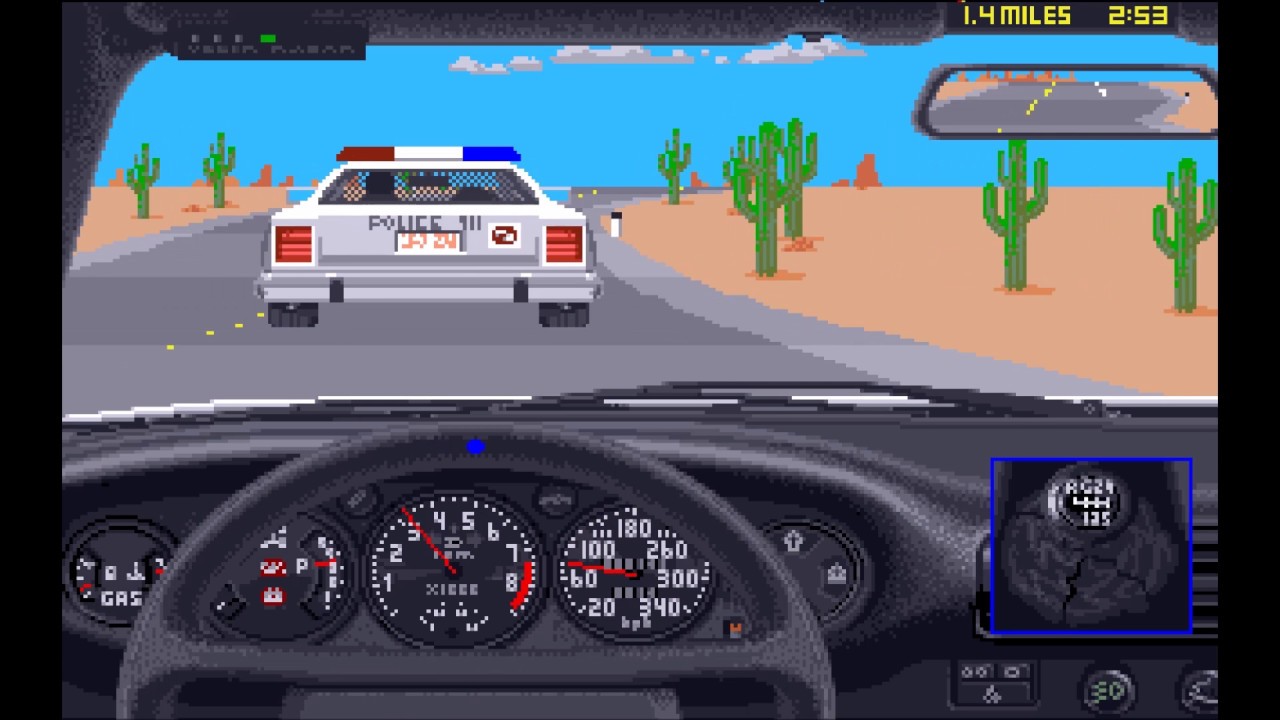 The Duel - Test Drive II (screenshot courtesy Spillhistorie.no)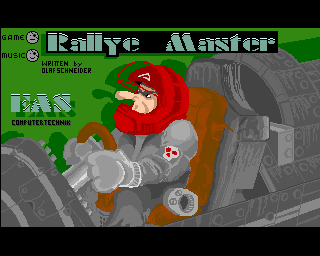 Rallye Master (screenshot courtesy LemonAmiga.com)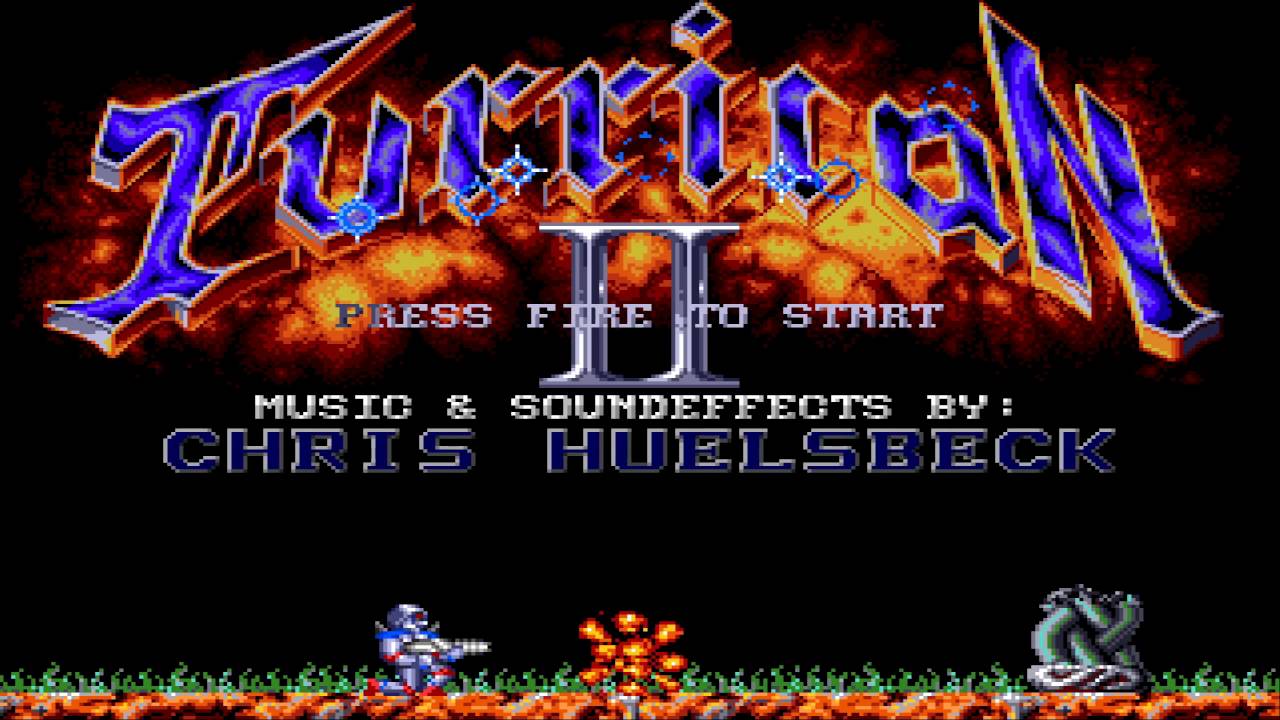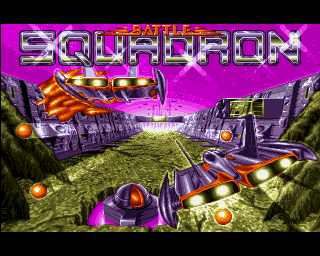 Battle Squadron title screen (courtesy LemonAmiga.com)
So, that's Encore500 in a nutshell. (Believe me, I restrained myself a lot to keep it this short!) It's nearly 2 hours worth of ear candy, a rollercoaster of a ride through a mixture of Amiga nostalgia and marvelous modern music, featuring everything from epic orchestral through gritty electronic to heavy metal, all mastered to perfection by Tomas Danko. I cannot say enough good things about this album! Don't deny yourself the pleasure of listening to it and fire it up right now on your favorite streaming service! You won't regret it.
Review by LaLa, June 10, 2023
Links
Encore500 is available now on all major streaming sites:
Listen to the Encore500 musicians talk about their own album:
Encore500 - Album info on Remix64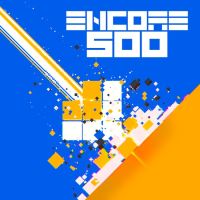 Click the image to vote on each track of the album!