SIDrip Alliance: ReLive - Review by LaLa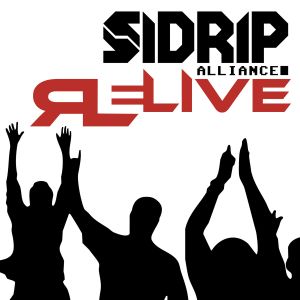 The name SIDrip Alliance should be pretty familiar already to everybody who follows the C64 remix scene. Since their debut concert in 2010 at the ÁROK#12 Party this Hungarian group has been very active, with live performances at parties like Function, Revision, and, of course, they have become a regular staple at Árok. Their members - Chabee, Hermit, NecroPolo, Vincenzo, Werdy - have been producing many remixes that are all available on RKO. And now, exactly 5 years after they first got together they have come out with an album of their own.
If you are a fan of Press Play On Tape, you will find SIDrip Alliance's band composition rather similar: driving bass, top-notch guitar, with a real drummer beating with the sticks, all topped with a sweet layer of synth-driven melody lines. SIDrip, however, managed to carve out a sonic landscape of their own over the years that sounds more heavy, more primal. On this album they have attempted to recreate the atmosphere of their live shows in a more controlled studio setting, and the result is a thumping, highly developed set of tracks that will hit you in the chest and will remain with you for a long time.
This is clearly in evidence on their first track, a powerful rendition of the Commando title music, and it continues on with a superb remix of Second Reality, which is actually based on the SID remake of the milestone PC demo's tune.
After all this you will get a quick break with the first few notes of Supremacy played masterfully on a flute. Don't relax for long, though, because it quickly transitions into the signature SIDrip Alliance guitar riffs. This is definitely one my favorite tracks from the album, because it manages to stay somewhat medieval (which is how I always imagined this Jeroen Tel composition) while also catering to fans of heavy rock.
And the chest-thumping hits will just keep coming after that: in the form of an energetic Green Beret remix (which has something extra towards the end that I don't want to reveal here...), followed by a lesser-known Laxity tune called Alliance (Got it? An Alliance remake by Alliance...), and a guitar-laden Myth at times in the style of Doom's title tune. Keep on dancing and headbanging to Powerdrift that to me is the ultimate expression of what SIDrip Alliance is about, and a highlight of the album.
The next set of tracks will sound familiar to people like me who listen to every single remix uploaded to RKO, because they're partly based on tunes you can listen to there. Hermit and Vincenzo both have their own takes on Compleeto available on RKO, so it's just natural that they got together and came up with another remix of this unique SID tune for this album. The result is a breathtaking tour-de-force with layers of guitars and synths that is sure to make you say Wow! after it ends. It's another favorite of mine from the album.
The late Arman Behdad's Electric Jesus was masterfully re-arranged by NecroPolo for the band. Luckily, he decided to keep many parts of his RKO remix arrangement intact, but the album mix sounds sharper and even more in-your-face, paying a proper tribute to Arman's work.
...And then there's From First to Last, a Last Ninja megamix that was a big hit on RKO when it popped up there in 2010. Here it gets a refined studio treatment: it sounds cleaner, more balanced. It's the same fluid arrangement, though, so it's sure to please even the most discerning fans of Last Ninja.
The album closes with two tracks that I can best describe as SIDrip lite- although only in style, as they still display the great talent the band members possess. Swing, originally by Pri, has received a serious update from Vincenzo's RKO remix for this collection. And the album is artfully framed by another tune from Commando, the mellow highscore melody that provides the perfect wind-down tune for the band's first album.
Even though the album was made available in digital format only, all this is still wrapped in a well-designed package with cover art, CD inlay - the whole nine yards. They even took the time to create an interactive C64 album cover! Now, imagine that all these wonderful tracks and artwork is available for free!
So, are you getting the best bang for your buck with this album? Absolutely, both figuratively and literally! (Because if your speakers are not banging with their music, you're listening to it the wrong way.)
I can't believe SIDrip Alliance is giving away this album for free, considering the professionalism it oozes, and the time and effort it must have taken to create it. So, do them a favor and download it from Bandcamp where the album is available on a name your price basis, and drop them a few bucks. And after that head over to their website (www.sidripalliance.com) and geek out with its spot-on retro GEOS user interface while you're checking out audio and video recordings of their past live performances.
ROC=K ON!
Review by LaLa, September 2015