RakBIT by Necropolo
Review by LaLa
03/2010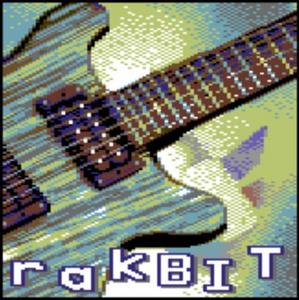 Let's establish something up front: RakBIT is a great prog-rock album and it's even better that all of its tracks are SID remixes. If you liked the organic- acoustic soundscapes of Reyn's Nexus 6581, I guarantee you'll like NecroPolo's pieces, too.
If you're wondering about the unusal title of the album, NecroPolo has a great story about that, and I encourage my readers to go ahead and ask him for it. I don't want to spoil it for anybody, so all I will say is that it originally appeared in a C64 game.
As for NecroPolo himself, he's composed quite a few SIDs himself in the early 90s, so this album is a return to his roots. He's an accomplished guitarist who played in several bands in the underground metal scene and he played more live shows than [he'd] like to admit.
As for the music on this album, right off the bet, Rimrunner presents some wicked guitar riffs. The controlled chaos of this totally overlooked Richard Joseph gem really comes through in NecroPolo's interpretation and we should all be thankful that it finally got remixed by a fine artist. Speaking of KAOS, the acoustic guitars are absolutely brilliant in there, too. I just wish it was stretched to be longer, I could've listened to it more. But I think we no longer have to search for the ultimate remix of this SID tune...
Alliance covers a lesser known Laxity tune. This one doesn't have as much impact on me as the previous two tracks. Though, like all the other tracks, it also achieves perfect balance in the mixing of the instruments. And as an added bonus it even has a hint of Forbidden Forest in it towards the end.
The fourth track, Yip Headroom, Galway Bridge, is a mashup of three different SIDs with heavy use of signature SID sounds in its long intro. The originals are woven together masterfully: the arrangement really carries this tune to another level. And it even manages to weave Parallax into it towards the end which provides a smooth preview of the next track.
Unfortunately, that track is somewhat of a letdown for me, as it's basically a standard remix of Galway's classic without any surprises, and thus, it doesn't really grab my attention. It does retain the acoustic feel of the entire album, so it fits in nicely here, and the guitar lead improvisations are top-notch, but still, I am missing some extra oomph from it that would make it stand out from the crowd of Parallax remixes.
I could never get to like the next tune, Tusker, so it's no surprise I'm not a fan of its remix, either. But that's MY problem and I'll have to deal with it, because this remix follows the high production value of its companions, and I'm sure Tusker fans will enjoy it.
As its name suggests, Rhodes Nebula is Daglish's Hades Nebula with heavy electro-mechanical piano influence. It's a wonderfully orchestrated piece that flows nicely into guitar leads in the middle of it as it switches gears. The arrangement has a very good funky 70s flow to it especially as it progresses towards the end. To me this tune is the highlight of the entire album that perfectly exemplifies its style and mood.
Laser Squad Tribute is a remix of NecroPolo's own SID tune that starts out with relative ambiance and follows it up with a gripping arrangement. This track is followed by YAROS (Yet Another Remix of Sanxion) - honestly, at this point, I think it would be very hard to impress me with a Sanxion remix unless it brings something radically different to the table. NecroPolo's version is badass, though, and it's definitely amongst the best remixes of this Hubbard tune: it's very clean and polished, as one would expect it from a professional like him, and it's obvious that a lot of work was put into it.
The album closes with a remix of Batman the Movie providing a somewhat whimsical end to RakBIT with its funny tuba bass line and carnival-style lead. It's always great to end an album with a smile on the listener's face!
RakBIT is a labor of love: the love of SIDs and the love of music in general, and that really shines through all of its tracks. NecroPolo's talented handling of the various instruments - physical and virtual - elevates it even further.
Even if you don't like the favorites I've picked here, the historical value of this album cannot be argued with: it's the first ever digital album with a C64 executable as its cover art, which is a fantastic nostalgic touch. The credits for the graphics of that program goes to Leon, and the coding is Hermit's excellent work who also created an innovative bytestream player specifically for this demo which not only uses minimal rastertime, but it also allowed him to cram all of the original SIDs covered on this album into it! Massive respects to all of them for their wonderful work.


And if for some reason even that is not enough for you, either, here's another historical tidbit: it's also the first ever remix album by a fellow Hungarian. And I sure hope it will be followed by lots more.