mind.in.a.box: R.E.T.R.O
Review by lala
03/2010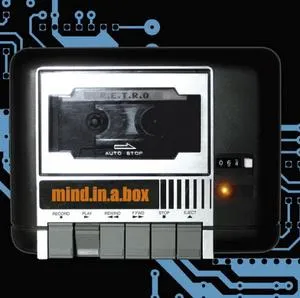 I would like to take this opportunity to say a big public thank you to mind.in.a.box for publishing this fantastic album. It's unexpectedly emotional and has touched me personally on multiple levels.

I have to admit, I haven't heard of mind.in.a.box before, except for their two excellent remixes on RKO (both of which are included on this album), but I am now a big fan of them thanks to R.E.T.R.O!

The Austrian duo consists of Stefan Poiss and Markus Hadwiger, and together they have several albums, live performances, and numerous other musical accomplishments under their belts. The love of their craft brings a very high quality of sound to this album that has really impressed me.

The album's style cannot be summed up in a single word: it's electronica mixed with a generous amount of SID arpeggios, some tracks have multifaceted lyrics with deep meaning behind them, and they all ooze the sort of melancholy that stops you in your tracks. In short, it's not just bits and bytes, there are some very real emotions behind the music, too.

The booklet that comes with the CD provides not only short snippets about each remix, but it also brings to light the personal relationship both Stefan and Markus had with the Commodore-64 and its SID chip, which I'm sure many SID fans will be able to empathize with. My only complaint is that a few of the lyrics are out of order in the booklet compared to the actual track listing. But overall, it adds a much welcome human touch to the album's nostalgia and greatly enhances the value of the entire package.

The way I see the album it consists of two major acts: the first act contains the SID remixes, and the second act contains their own C64-related compositions. As much as I admire their SID remixes, to me the real highlight of this album is the second act.

First Act

There are not that many ways to cover the intro of Last Ninja 3 and mind.in.a.box also chose to go with a somewhat orchestral style. What's different with this powerful, in-your-face mix, though, is that it features probably the best use of the original SID tune in a remix ever. What a great opening track for their album!

When I first heard their version of Lightforce on RKO, I had some reservations about it, especially concerning its distorted lead that kicks in at 2:25. However, the more I listened to it, the more it grew on me and eventually it has become my all-time favorite Lightforce remix. When they add their own twist to this tune towards the end is where this remix really shines: it has a certain thoughtfulness to it and I find myself gazing away when it's over...

The remix of The Last V8 is a fairly significant departure from the original tune, but its new arrangement has a very natural flow to it. The game- appropriate lyrics (thankfully included in the booklet or available online, because they're somewhat hard to decipher) are a pleasant surprise and the vocals fit this arrangement like a glove.

Maybe they remixed a tune of Supremacy I haven't heard before, but this track is the one that seems to contain the least of the original SID of all their remixes, at least in its first half. Whatever liberties they took with it, though, it really works.

Hülsbeck's now-classic Shades gets an edgy electronic treatment on this album, but the Moog-ish bass is what drives it most of the time. What I really like about this track is how it's full of mind.in.a.box's own variations in the background: they make the original so much better.

There's one more SID remix on the album: The Last Ninja, and more precisely The Wilderness in-game tune from that game. The arrangement follows that of the original rather closely and has a great mixture of spookiness and suspense; it's engaging and serious all at the same time.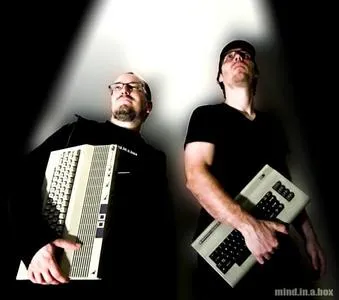 Second Act
8 Bits is so deep on so many levels, it should really become the official anthem for all fans of 8-bit home computers. The vocals are sung by a faux-femme voice, but what is being sung is what's really captivating here: 8 bits are enough for me, (s)he opens the refrain, longing for long-gone times devoid of emulation, all sung over a catchy melody-line that is hard to get out of my head.

Mindkiller is a soundtrack from mind.in.a.box's own 3D space shooter game, Parsec. Frankly, it feels a little out-of-place on this album, even though its style is very similar to that of the other tracks. What I am missing here is the connection to C64 and SID nostalgia, even though I can understand its historic signficance for mind.in.a.box.

Frankly, I have a hard time deciding whether I Love 64 is a love ballad for the C64 or for modern 64-bit computers. Yet again, the lyrics on this track work on so many levels, everybody can bring their own perfectly valid interpretations to the table.

Ironically, We Cannot Go Back To The Past tries to do just that: bring back the old times with some vintage analog sounds and good old fashioned electronica, despite what the whispering voices tell me on this track. The arrangement at times reminds me of popular tunes from the 80s, but it's all presented in a modern package with subtle hints.

And so we arrive to the last track of the album, which I also happen to think is the best one, because it's the one that touches me the deepest. It was Whatever Mattered that convinced me of the duo's mastery of the audial arts: it's deeply emotional, it's undeniably rooted in SID music, it's mixed and arranged perfectly, every single note has a purpose. As Stefan mentions it in the booklet, this album is wrapping up the past: it waves goodbye to what's behind them, providing a closure to open up new doors in the presence. Whenever I listen to this track, all my C64 and SID related memories of the past decades rush through my mind and it reminds me how far we've come since then.

Whatever mattered, indeed...