The Def Guide to the Zzap! 64 Music Charts and Sound Ratings.
by Warren Pilkington (Waz, (former Zzap! 64 tips contributor)), Published: 31/03/2021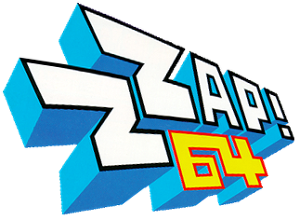 For so many Commodore 64 owners, Zzap! 64 was the magazine of choice. It had a review system where multiple reviewers would play the game and agree a suitable set of scores, even if their opinions would differ depending on the game being played, a comprehensive tips section which was always a positive help for games proving challenging, and it was the first magazine to really touch upon to the way that the SID sound chip was being used to bring some quality game soundtracks to the masses, especially with the likes of their Musicians' Ball interviews. Naturally, as I think everyone else was at the time, I was a fan of the magazine and being able to contribute tips and POKEs in later years really did feel like giving something back for all the marvellous issues I had read over the years.
Zzap! 64 giving prominence to the musicians and their soundtracks really did open up the ears of many a game fan, who wanted to know the reviewers' opinion on the sound in the game, whether it featured the latest epic composition by the likes of Rob Hubbard and Martin Galway, or if the soundtrack genuinely added to the atmosphere of the game and made it much more of an enjoyable experience overall. I for one always liked the fact that having such atmospherics really immersed yourself in the game – after all, even for an adventure game, where would the atmosphere be without Neil Brennan's superlative soundtrack for Castle of Terror, or the blood curdling panic induced by Paul Norman in the original Forbidden Forest game? It was this what the likes of Julian Rignall, Gary Penn et al at Zzap! 64 were tapping into.
The Zzap! 64 Music Charts, 1987-1989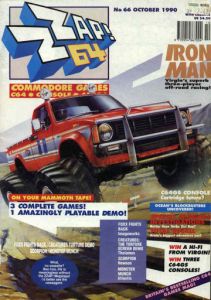 The final time the charts were published was in issue 66 of Zzap! 64
Throughout the early years of Zzap! 64, there had been a reader's charts, which after a few issues of being the top 64 games (you can see what they did there) it went to being the top 30 games. The January 1987 issue (Issue 21) also saw the first appearance of what would be the Commodore 64 music chart, with ten soundtracks selected, possibly by the Zzap team at the time. The voting form from this issue onwards also allowed readers to vote not just for their top five games, but also their favourite piece of music from a game. This was recognition for the hard work that had been put in by composers in those early years, and would end up running for two years until the final time it appeared in the January 1989 issue (Issue 45) where it was put on a hiatus, due to, in their words at the time, the same people voting for the same soundtracks every month. However, there was a brief comeback of the charts from February 1990 (issue 58) onwards, this had a top five instead of a top ten – and this lasted until October 1990 (issue 66). We'll deal with that a little later.
Nonetheless, the popularity of some particular pieces in the early months, was, in my view, part of the reason why the magazine went to look at including Rob Hubbard's now iconic synthesised version of Thalamusic, the loading theme from Sanxion, as part of its first cover mounted cassette in the June 1987 issue (Issue 26.) In fact, during that first year, the loading theme from Sanxion was number one in the music charts for nine months on the trot, and stayed in the charts for another six months the year afterwards. The force of this soundtrack was very strong indeed.
Based on the charts each month, giving first place 10 points, second place 9 points down to tenth place and 1 point, here's the top 10 for 1987:
No surprise that the loading theme from Sanxion is top by a considerable margin, but the top position and three second places for the lengthy main theme for Knucklebusters just edged out the Green Beret loading theme for second place.
In all, six Rob Hubbard pieces, three by Martin Galway and one by Mark Cooksey, the somewhat iconic Ghosts n Goblins piece with those drums (if you know, you know) and that mainly reflected the admiration that Zzap! 64 did have for Rob Hubbard at that time. It was perhaps notable that the lengthy main theme from Delta had picked up considerable traction during the latter months of 1987, and in fact, this would be the case during 1988, as we can see.
In fact, Delta was top for almost all of 1988, the only time it wasn't was in October where it was overtaken briefly by the title theme to Skate or Die. Also impressive was the fact that Arcade Classics, complete with its guitar and organ samples, struck a chord with those who had listened to the soundtrack and enjoyed it. In fact, seven Hubbard pieces made the top ten, with only Martin Galway, Wally Beben and Matt Gray getting a look in towards the second half of the year, notably with the epic lengthy pieces that were Tetris and Driller respectively. And by the way, in case you wondered, the November and December 1988 charts were the same – it is not a typo. It may have been a misprint in the magazine, but you can only go off what was in there after all.
It won't surprise you to learn that overall, taking into account the January 1989 issue as well for a final total over the 25 months that a top ten existed between 1987-1989, that Delta stole the show because of its superlative second year performance.
However, consistency over the two years also meant the opening Wastelands loader of The Last Ninja by Ben Daglish was one that stuck in the readers' heads long enough to feature in the top 10s each month and therefore be part of the overall chart here. Needless to say, that top ten features some impressive pieces in the history of the chart and shows that gamers were indeed more receptive to how the game soundtracks helped to define the games that they played and were becoming in themselves much more of an entertainment and art form in their own right.
Some other statistics for the overall 1987-89 chart that are worth noting:
33 games in all were nominated in the readers' music charts
17 were by Rob Hubbard (one of those being Auf Wiedersehen Monty with Ben Daglish, this also featured in 10thplace in only one month)
9 were by Martin Galway
3 were by Ben Daglish (in addition to the co-op tune above)
One each for David Whittaker (Glider Rider), Mark Cooksey, Wally Beben and Matt Gray (the games mentioned featured in the yearly charts)
The Zzap! 64 Music Charts 1990
As only five game themes were able to be nominated, I thought it worthy of its own section and indeed a separate look at a different era. There were of course less C64 games produced, but often the ones that were released were a consistent quality, and indeed there were some soundtracks that defined themselves to that generation. As mentioned, the charts made a comeback in February 1990 (Issue 58) and ran through to October 1990 (Issue 66) – and although the first chart was the reviewers' choices, that did match up with what the readers voted on subsequently. So, with 5 points for 1st place each month down to 1 point for 5th, this is how it looked:
Perhaps unsurprisingly, two soundtracks dominated that chart with Jeroen Tel's excellent Turbo Out Run just outperforming Tim Follin's seminal Ghouls 'n' Ghosts. In fact, had the September 1990 chart had a decent showing, then it would have won – but it definitely wasn't there – I did have to double check for myself to be sure!
Notably two Ocean licenced games both involving Matthew Cannon, The Untouchables (with Jonathan Dunn) and Batman: the Movie also fared very well, with the latter for me perhaps being his finest work – it just really works well with the game. The only other top three charter during those months was Steve Rowlands' excellent soundtrack for Retrograde, and perhaps a nice notable nod that both Martin Galway's music for both Parallax and Wizball also featured here, possibly due to their re-releases on budget.
So, that was the readers' charts. But what of the sound ratings given on review?
The Zzap! 64 Sound Ratings
To get all the sound ratings for all the games that had been reviewed in Zzap! 64 would be a pretty sizeable task. However, I was able to call upon a few useful sources and put together most of the data initially, with just the sound ratings to be added for each game. So, what did I do? It was something like this:
Use the Zzap! 64 bible, available at www.zzap64.co.uk to retrieve a full list of all the games reviewed, as this had the issue number, page number and overall score as well as the publisher info
Use the utility SIDInfo (version 0.9.2) to extract the credit information from all files in the High Voltage SID Collection (HVSC) into a table – the latest version 74 was used.
Once extracted, anything post-1992 was removed, as not needed to be referenced
Cross reference the game, publisher and the release date against the HVSC extract to get the correct musician's credit
For games not in HVSC or not ripped, a check of Gamebase 64 was used for the remainder, in order to preserve accuracy
This then meant all that needed to be added were the sound ratings.
However, this was where it also got interesting. You would expect every game to be reviewed in Zzap! 64 to get a rating for the likes of graphics, sound, hookability, lastability and so on? The reality is that it always didn't happen – and sometimes this depended, especially for budget games, what time the game was reviewed at. So, bear in mind that the overall chart will be a smaller number of games covered, for the following reasons – and where possible, I've noted some that were notable for missing out.
Adventure games (text or graphic) never had a sound rating in their reviews. So, this means no scoring for the likes of Castle of Terror (Neil Brennan) and Kentilla (Rob Hubbard)
Strategy games also never had a sound rating in their reviews. This would therefore apply to Master of Magic (Rob Hubbard)
Budget games from late 1987 to early 1992 didn't always get a full ratings review – a lot would only get a small review with an overall rating, and generally only Silver Medal winners would get full ratings when they first switched to that budget games review system. This was rescinded in 1992 as a lot of budget games were all that was being released as new games.
Re-releases only generally had full reviews if not previously reviewed at full price (such as the Firebird re-releases of Activision games) – most of the later re-releases were covered in the budget sections as above
Only issues 1 to 90 of Zzap! 64 (May 1985 to November 1992) are covered here. The relaunch as Commodore Force is not included, as it's not the same magazine, and nor are any reissues or annuals after that. We're strictly talking the original Zzap! 64 era. Some may argue issue 78 (the last Newsfield issue) was the end too, but this didn't make a massive difference to the sound ratings overall.
With all that done, that left 1,424 games in all which had a sound rating across seven and a half years of Zzap! 64. So let's delve in there and see what we can find.
Nice Music, Shame About the Game
Often a game would have a superlative soundtrack, but the game itself would prove not to be the best quality. This actually in some cases led people to buy the game just for the soundtrack (did someone say Knucklebusters at the back there?) which meant sales nonetheless – Ocean particularly were thankful that on more than one occasion, Martin Galway had saved their sales figures that month. Sadly, I do feel this detracted somewhat from the great work both of them did – always better to have an excellent soundtrack in an excellent game where everything marries up – Wizball being a case in point.
So, here's the top 13 (there were four in equal 10th) in terms of the music score being much higher than the game!
Martin Galway's excellent Miami Vice music is top of this, with a 68% difference between the sound rating of 98% and the overall game rating of 30%. Similarly, Fred Gray's excellent tune in Break Thru was wasted on an appallingly bad arcade conversion, hence the 64% difference here. Rob Hubbard's W.A.R. scored 98% for sound too, but the game – pretty meh and 44%, and so a 54% difference here. Notable that the only later released game is in 4th place: Cover Girl Strip Poker, with music by Thomas Bendt (Scortia) and Thomas Mogensen (DRAX). Obviously, their music is good, but the game isn't really going to cut it unfortunately due to its subject matter. And the lowest rated game overall in this list (Inspector Gadget) had a decent Jason Brooke soundtrack which was wasted on an appallingly bad use of licence.
The Cream of the Zzap! 64 Crop (The 98% Club)
Of course, when giving the game a sound rating, one of the things that the Zzap! 64 reviewers did take into consideration was also how much of the atmosphere was brought into the game itself, not just by the music, but any sound effects if it felt that they added to the game as well. The list below are all of the games that scored 98% or greater for sound in Zzap! 64, 15 in all, and there's a few surprises in there.
Yes, Rob Hubbard is top of the shop and Monty on the Run perhaps isn't a surprise, and Crazy Comets is also quite well adored too, but a massive surprise was to have the World Games sound by Steve Mage in there. To be fair, the sound effects in the game help a lot with the atmosphere, but the tunes are also very fitting: the C64 doing bagpipes in the caber toss event is one I still listen to today and ask myself how it was done, because it was that good. If you've never played it, now is the time to do so.
Fred Gray is fourth on his own with the excellent suite of tunes from the licence of Frankie Goes to Hollywood. It was only one of two occasions Zzap! 64 used a .5 percent (the other being the awful sound rating for Cops 'n Robbers) but was befitting of Fred's excellent versions of Frankie songs (and the version of Relax being the only time Fred ever used the SID filter.) To this day I still really like the versions of Snatch of Fury and Two Tribes present in the game.
The haunting rain and dark mood of the title theme of Ghouls 'N Ghosts was more than enough for me to rate that Tim Follin soundtrack so highly myself, never mind the other excellent tunes in that game. It was the final time that Zzap! 64 had given a game 98% for sound and the only one in the list in the 1990s, the rest being between 1985-1988. Notable entries too were the score and sound effects adding to the beautiful spooky feel of Scarabeus (if you composed that, please come forward and make yourself known, there's a lot of us who would like to say thank you) and the excellent David Dunn piece in The Fourth Protocol, originally based a carol written for a school choir and performed on Capital Radio back in 1979, so clearly the tune stuck beautifully – and it is pretty majestic.
A few other facts:
Only Rob Hubbard (5), Martin Galway (2) and Fred Gray (2) have more than one entry in this top 15 list – Fred Gray's Mission A.D. being the other, and another vastly under-rated piece in my view.
Wally Beben's soundtrack to Tetris is the longest piece in the top 15, at over 25 minutes long, and as Kwed himself pointed out, there is an excellent version on Marcel Donné's Waiting For SID CD release. A non-commercial version of this would still be welcomed.
Thing on a Spring, along with The Fourth Protocol, were the first games to get the 98% sound rating (issue 4, August 1985)
In all, 115 games in total had sound ratings of 90% or more. Out of that list, 23 are by Rob Hubbard (and also BMX Kidz with Jori Olkkonen), 10 by Martin Galway, 7 by Jeroen Tel and 5 by Richard Joseph.
The Most Remixed Tunes on RKO and Their Zzap! 64 Sound Ratings
You may remember a few months ago I looked at 20 years of remixes on remix.kwed.org and compiled a list of the most remixed SIDs in HVSC. As these were all games, here's the top 10 that had reviews in Zzap! 64 with sound ratings - notably, The Human Race, amongst the top 10 remixes in equal 9th place, was never reviewed by Zzap! 64.
This does also mean that all three Last Ninja games feature, and both the scores for 2 and 3 (Matt Gray and Reyn Ouwehand) had 92% sound ratings, yet the original game had a lesser rating of 88%. Surprisingly, Chris Hülsbeck's soundtrack for The Great Giana Sisters scored less highly than you'd think – unless Zzap! 64 didn't have a version with the excellent intro music on which is still one of my favourite tunes of Chris.
The Top 30 Musicians by Zzap! 64 Sound Ratings
Before I begin, it may surprise you to learn that it isn't Rob Hubbard that is top of the list. I know what you're thinking: but why? Well, the likes of Samantha Fox Strip Poker, plus the later C64 output for EA that in some cases probably missed out the excellent intro tunes are responsible for that, as well as a controversial rating for Thrust due to the review copy infamously being bugged (it got 80% for sound, incidentally) and some less than favourable reviews for the likes of Geoff Capes Strongman Challenge and Wiz. It has been confirmed by Julian Rignall of Zzap! 64 that Rob Hubbard's music wasn't in the review copy of Ninja, which is why the sound rating was given a low rating of 22%.
The table that follows is based on an average sound rating taking the following into account:
At least five games featuring the musician have been reviewed (so there's an allowance for consistency over time)
Any tunes done in conjunction with anyone else doesn't count towards the composer average (so for example Auf Wiedersehen Monty by Rob and Ben, Tim and Geoff Follin composing together, and so on)
If the average is the same across two musicians, the one who had the most games reviewed gets the higher position, as there is more consistency across a larger range of games
So, without further ado, here's your top 30:
Some surprises in there, but notable by absence is Ben Daglish – he was only 32nd place on the list, primarily due to a lot of average and less than good games featuring his music, and as good it was, it couldn't save it. Ben also, quite poetically, had 64 pieces of music on his own reviewed by Zzap! 64.
Tim Follin's consistency across the five pieces he composed on his own gave him top spot, those games reviewed were: Bionic Commando, Black Lamp, Ghouls 'n Ghosts, L.E.D. Storm and Scumball
Richard Joseph was of course very consistent, and amongst the eight games sound rated by Zzap! 64 included his excellent renditions of Defender of the Crown, Rimrunner, Sacred Armour of Antiriad and of course Barbarian I and II. Surprisingly, Cauldron II scored his highest of 96%.
Jeroen Tel too was also very consistent in the 25 games rated, with his highest scoring piece being Turbo Out Run, at 96% and spanning from 1988 to 1992 in terms of games reviewed.
Paul Norman's score doesn't even include Aztec Challenge (which would have been a shoe-in otherwise) but does feature Beyond the Forbidden Forest as well as Super Huey and Chernobyl. Again, he was more of a master of atmosphere and that really reflected in the review scores.
Other musicians you may be surprised to see included are Shaun Southern (recently discovered he did the music for almost all games coded by Tony Kelly as well, so more featured), as well as Ed Bogas (although Park Patrol scored very highly it should be noted) and Paul Butler, who composed a lot of Accolade and other US software companies.
Steve Turner was just outside the top 10, but if you look at the consistency for the games he composed for: Uridium, Gribbly's Day Out, Intensity, Magnetron and Morpheus for example. Whatever he wrote just worked really well with the Andrew Braybrook games, and as short as it is, Uridium's title theme is vastly under-rated. Not anymore!
In all, particularly for those of you who were loyal readers at the time, Zzap! 64 was the de facto Commodore 64 magazine to own, and indeed to be pretty loyal to over the years. The reviews were at least more than one opinion, and the fact that particularly in the early years they gave so many good SID musicians exposure really helped enhance their profile and made their soundtracks the ones to watch out for. As the later years proved, plenty of musicians stepped up and really kept pushing the SID chip and some memorable soundtracks were duly reviewed and scored accordingly. It's been a fascinating look back for me to see just how much those music ratings mattered, and I hope it'll give you some encouragement to maybe check out other SID musicians' work and have a new source of inspiration to create a remix.
(20/09/2021) This article was updated to reflect that Zzap!64's review copy of Ninja did not have Hubbard's music in it (the top 30 musicians list was also updated along with this), and that Wally Beben's soundtrack to Tetris has actually been remixed already, by Marcel Donné.