Remix64 Volume 1: 80s Remixes for the 8-BIT Generation
Why 80's? You may well ask!
Remix64 aims to bring you the sound and emotion of the era in which these classic SID tunes were made. Imagine Glider Rider played on the instruments of the time, or Red Max sounding like vintage Paul Hardcastle. What if Vangelis added his magical touch to Green Beret? Or Depeche Mode performing Nemesis The Warlock in ther own unique stlye? These and more are right here on Remix64.

We scoured the world to find the best SID cover musicians to create that 80s sound. In addition to bringing you old favourites like Chris Abbott, Boz and Marcel Donne, we showcase some of the hottest new C64 remixing talent, such as LMan, Glyn R. Brown and Kent Valden. We've even recruited Thomas Detert: an ex-C64 composer himself.

The music you find on this CD has something for everyone. Ballads, Disco, Dance, Slow, Fast: we give you something to suit all tastes.

Every week you'll be able to download 3 clips ranging from 30 to 40 seconds. The full tracks can be found on Remix64 - The CD which you can now purchase at a price of £10.99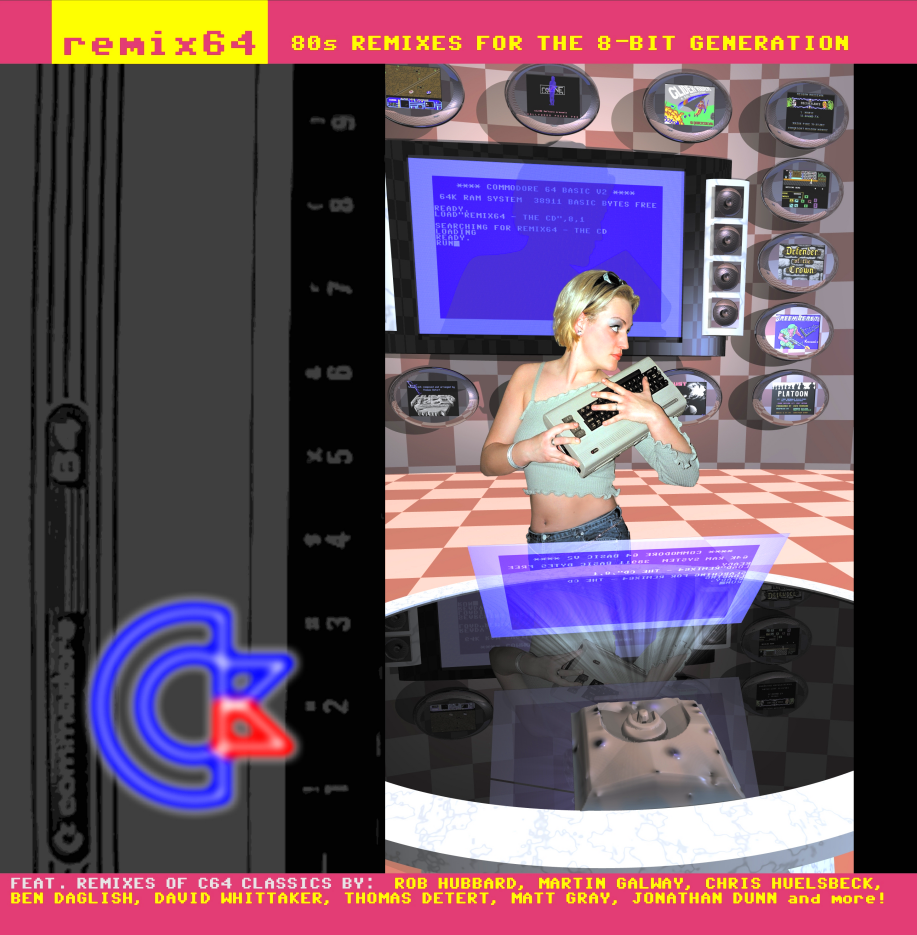 Cover art by LMan
Tracklist
01
Glider Rider
Tribute to Trevor Horn
David Whittaker
Arranged by Markus Holler
02
Ark Pandora
Tribute to Mike Oldfield
Ben Daglish
Arranged by Mike Gommans
03
Green Beret
Tribute to Vangelis
Martin Galway
Arranged by Thomas Detert
04
Human Race Subtune 4
Tribute to Stock, Aitken & Waterman
Rob Hubbard
Arranged by Second Face vs. LMan
05
Ocean Loader I
Tribute to Jarre/Magnetic Fields
Martin Galway
Arranged by Marcel Donné
06
Red Max
Tribute to Paul Hardcastle
David Whittaker
Arranged by Fabian Del Priore
07
Deliverance
Tribute to Vince Clark
Matt Gray
Arranged by Glyn R. Brown
08
Platoon
Tribute to The Killing Fields
Jonathan Dunn
Arranged by Trace
09
Panther
Tribute to Giorgio Moroder
David Whittaker
Arranged by DHS of The SoundWavers
10
Defender Of The Crown (Rebecca)
Tribute to The Power Of Love
Jim Cuomo
Arranged by LMan
11
Ocean Loader IV
Tribute to Giorgio Moroder/Kraftwerk
Jonathan Dunn
Arranged by Marcel Donné
12
Hollywood Poker Pro
Tribute to Nile Rogers
Chris Hülsbeck
Arranged by Fabian Del Priore
13
Storm
Tribute to the Pet Shop Boys
David Whittaker
Arranged by Glyn R. Brown
14
Starball
Tribute to Chris Hülsbeck
Chris Hülsbeck
Arranged by N-joy of The SoundWavers
15
Hyper Agressive
Tribute to Art Of Noise
Thomas Detert
Arranged by Thomas Detert
16
Thrust
Tribute to Human League
Rob Hubbard
Arranged by Slow Poison
17
Nemesis The Warlock
Tribute to Depeche Mode
Rob Hubbard
Arranged by LMan & Wobbler
Mucho Respekto and thanks to Jan Lund Thomsen for his downloading routine!